At the beginning of his senior season, Lance Williams had big plans for De Soto High's boys soccer team.
The senior sweeper, two-year captain, three-year starter and on-field leader saw the Wildcats' 4-0 start as the gateway to a trip to state to complete his final year at De Soto.
Standing in the way of that objective was Paola. After an unbeaten streak where they outscored opponents 22-3 to open the season, the Wildcats lost to Paola, 2-1, in overtime. They also lost the momentum they had at the beginning of the season. The loss to Paola started a lengthy scoreless streak for the Wildcats, a time when Williams said it was difficult to be a team leader.
"After the loss to Paola and the drought started, it lasted quite awhile," Williams said. "That was the hardest time, because the team was down, I was down, and we just couldn't get anything going."
First-year De Soto coach Darren Erpelding said it was during that time that Williams shined. Although Williams may not have known it, Erpelding said his tenacious work ethic and reliable leadership helped the team emerge from its most difficult part of the season.
That dogged determination is a big reason behind Williams' selection as the inaugural All-Area Boys Soccer Player of the Year.
Photo Gallery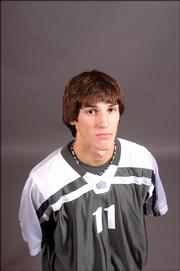 All-Area boys soccer team
The All-Area boys soccer team was selected by The Journal-World sports staff and is based heavily on voting by area coaches and performances throughout the season. All area coaches have an opportunity to vote for first-team, second-team and honorable-mention honors. <br/><br/>Not pictured: Kaleb Gesner ¢ Fr. Perry-Lecompton ¢ MF ¢ Honorable-mention CenKSCA All-Region.<br/>David Hassinger ¢ Sr Tonganoxie ¢ GK ¢ Collected 64 saves ¢ Finished with goal-per-game ratio of 2.79.
"Lance really proved what kind of character he had during that stretch when things weren't going well for us," Erpelding said. "He was still out there working hard and encouraging the rest of the young guys. If I had kids that worked as hard as he did, we would go to state every year."
Williams leads not only because at his sweeper position he sees the field, but also because it is a natural role for him. The only remaining starter from De Soto's 2003 state runner-up team, on which Erpelding was an assistant coach, Williams knows what his coach expects of the team on the field.
Erpelding said Williams was like an on-the-field coach. Williams used instincts and his knowledge of the game to make sure the Wildcats were running efficiently.
What Erpelding enjoys most about Williams comes off the field, however. It is no secret among his teammates and friends that there are parts of Williams' life that take precedence over soccer.
Erpelding teaches his players that they should put their dedication to their family, faith and school before athletics. He said Williams' ability to do that and still achieve all of the success he has on the field defined his character.
"That is exactly how he lives his life," Erpelding said. "He is truthful and honest, and that goes right on the field. Plus, he is the toughest player I have ever seen."
That toughness prevailed as
De Soto rebounded from its scoreless streak and gained some revenge by beating Paola, 4-2, in the Wildcats' backyard. They went on to beat Atchison Maur Hill Prep in the regional final before losing to Bonner Springs in sub-state.
Williams did not play in what would have been his last game as a Wildcat because he received a red card in the game against Maur Hill.
"It was for making a slide tackle in the box," Williams said. "It looked like he pulled the card out before he even knew what happened."
Erpelding said it was one of the worst calls he ever had seen.
"I just felt bad for Lance because he plays with such heart, and for him to miss his last game because of a stupid call was terrible," Erpelding said. "Not having Lance out there forced us to make some adjustments and really hurt us in that game."
That game will not be Williams' last, however. Williams will attend Manhattan Christian College, where he will play soccer. Manhattan Christian was the National Christian College Athletic Assn. Div. II champion this year.
"They have been my first choice for a while because going to a Christian college is No. 1, and they have a great soccer program there," Williams said. "I have had some friends that went there, and my mom went to K-State, so there was a lot of encouragement for me to go there."
Copyright 2018 The Lawrence Journal-World. All rights reserved. This material may not be published, broadcast, rewritten or redistributed. We strive to uphold our values for every story published.