It has become difficult to forecast how much news might come from a Nextel Cup awards week in New York.
Two years ago, NASCAR officials sat around on the day of Matt Kenseth's banquet putting together details of the Chase for the Nextel Cup format as more than a foot of snow fell on the city. Last year, neither the weather nor the news was nearly as dramatic.
There will be all of the usual ceremonial stuff. Champion Tony Stewart will have a photo shoot at Times Square and a small fleet of Cup cars will rumble through the city's streets.
There will be the annual news conference Thursday.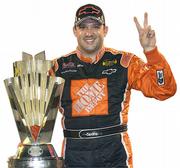 On Friday, the National Motorsports Press Association will present the Myers Brothers and Most Popular Driver awards at breakfast. Then that night, if the past is any indication, the Cup banquet will feature several acts of tangentially appropriate entertainment followed by a series of mind-numbing speeches ruined by Teleprompters, leading to Stewart getting a very large check.
There might be some actual meat to chew on during championship week, however.
For starters, it will be stunning if the new television deal isn't officially announced. The latest scuttlebutt about negotiations had Fox getting the season's first 13 races, then TNT having six races before ABC/ESPN airs the final 17. One late-developing wrinkle was that the Nextel All-Star Challenge apparently will air on Speed Channel.
Copyright 2017 The Lawrence Journal-World. All rights reserved. This material may not be published, broadcast, rewritten or redistributed. We strive to uphold our values for every story published.