Boston — Kendrick Perkins was a surprise weapon for the Boston Celtics.
Paul Pierce scored 32 points and grabbed 11 rebounds, while Perkins added career highs with 12 points, 19 rebounds and four assists to lift the Celtics to a 110-103 victory over the Philadelphia 76ers on Wednesday night.
"I've been playing uptight and the coaches have told me to relax," Perkins said. "I knew things were going my way when I hit a jump hook in the first half. I haven't done that since high school."
Allen Iverson had 40 points for Philadelphia, but was hounded by Celtics guard Delonte West in the fourth quarter and only had two baskets in the period.
"In the past we have had trouble scoring and we were a good defensive team," Iverson said. "This year is totally the opposite, and we can't stop anybody."
Perkins was making only his third start of the season and combined with Mark Blount to total 20 points and 26 rebounds out of the center position for the Celtics.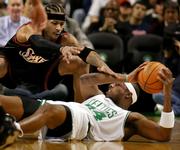 "He attacked every rebound and made everyone want to crash the boards," Celtics guard Ricky Davis said. "That is the best I have seen him rebound since I've come here."
With the game tied at 87 and 6:25 remaining, the Celtics went on a 9-1 run capped by Raef LaFrentz's three-pointer to give them their biggest lead of the game at 96-88.
Davis added 26 for Boston, which won for the third time in its last eight games.
Chris Webber had 28 points for Philadelphia.
Sonics 104, Bobcats 94
Seattle - Ray Allen scored 32 points, and Rashard Lewis had 27 points and 10 rebounds to help Seattle break a three-game losing streak. Lewis was strong in the first half, scoring 18 points, and then turned it over to Allen, who had 20 in the second half.
Warriors 113, Kings 106
Oakland, Calif. - Jason Richardson scored a season-high 33 points, and Baron Davis added 25 and 16 assists to help Golden State defeat Sacramento.
Hornets 102, Nuggets 95
Denver - Desmond Mason scored 21 of his season-best 26 points after halftime in New Orleans' win over Denver. The Nuggets were without the services of forward Carmelo Anthony, who sprained his left ankle Monday night.
Suns 109, Pacers 91
Phoenix - Steve Nash scored a season-high 31 points, including a career-high seven three-pointers, and Phoenix beat Indiana for its fourth straight victory.
Knicks 109, Bulls 101
New York - Jamal Crawford scored a season-high 28 points, and New York defeated Chicago. Channing Frye added 21 points and Stephon Marbury had 18 for the Knicks.
Cavaliers 112, Clippers 105, OT
Cleveland - Donyell Marshall made a key three-point play in regulation, then hit consecutive three-pointers in overtime to help Cleveland beat Los Angeles.
Grizzlies 92, Raptors 66
Toronto - Damon Stoudamire scored 19 points, and Eddie Jones had 18 to lead Memphis over Toronto. Chris Bosh had 15 points for the Raptors, who fell to 1-15.
Heat 96, Hawks 74
Atlanta - Jason Williams scored 21 points to help Miami beat Atlanta. The Heat, who began a five-game road trip, improved to 8-5 since losing Shaquille O'Neal to a sprained ankle.
Pistons 93, Nets 83
East Rutherford, N.J. - Richard Hamilton scored 30 points, and Detroit tied a team season high with 10 three-pointers in a victory over New Jersey. The win allowed Detroit (11-2) to maintain the best record in the NBA this season.
Wizards 96, Blazers 89
Washington - Gilbert Arenas had 28 points and five assists, leading Washington over Portland. Antawn Jamison had 20 points and 15 rebounds.
Copyright 2018 The Associated Press. All rights reserved. This material may not be published, broadcast, rewritten or redistributed. We strive to uphold our values for every story published.