In the 1920s, a new type of lamp was manufactured - the animated action lamp. Each lamp was a plastic or glass cylinder with a scene on the outside. Inside was another cylinder with a slotted top. A light bulb glowed through the cylinder's scene. The heat from the bulb also moved the inside cylinder so the scene appeared to be moving. Moving figures, water cascading over Niagara Falls or flames burning around a log were popular subjects. By the 1950s, the idea of a lamp with a moving picture became popular with advertisers. Bars promoted drinks, especially beer, and snacks like popcorn and nuts with ads flashed on cylinder lamps. One of the most unusual animated lamps was an advertisement for Cole swimsuits. The lamp's tent-shaped top was vented so the light bulb's heat made the lamp rotate to show three bathing beauties in Cole swimsuits. It must have attracted many customers.
Q: I understand that Japanese woodblock prints are valuable. I have a framed woodblock print by a Japanese artist named Kiyoshi Saito. It pictures an elongated cat in black and white and shades of gray on a brown mottled background. The print is signed by the artist. What can you tell me about Saito and the value of his work?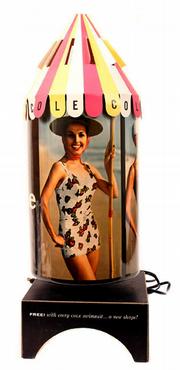 A: Original woodblock prints by Kiyoshi Saito (1907-1997) have been sought by collectors since the mid-1980s. They sell for hundreds into the thousands of dollars. Saito was self-taught and used water-based colors dominated by black and brown. He used a hardwood to make his prints until about 1960, when he switched to a type of plywood. Most of his prints are scenic, but he did a few series of girls, dogs and cats. Your cat, if an original print, could sell for more than $2,000.
Q: My family has owned a set of eight small plates for years, and I've never been able to find matching pieces. The plates are 7 1/2 inches in diameter, with scalloped and gilded edges. They're decorated all over with an orange and yellow floral design. The mark on the back is an E & R Inc. logo above the words "Est. 1886, Erphila, Czecho-Slovakia, Chelsea."
A: Your dishes were manufactured in Czechoslovakia sometime during the 1920s or '30s. The "E & R" and "Erphila" marks show that the dishes were sold by Ebeling & Reuss, a Philadelphia importer. Ebeling & Reuss used its initials as a mark, and also the name Erphila - a combination of the initials and an abbreviation for Philadelphia. Chelsea is the name of the chintz (allover floral) pattern of your dishes. You have a set of the salad plates from the Chelsea dinnerware set. Replacement services sell one salad plate for about $55.
Q: My wife and I discovered 26 U.S. Postal Savings System certificates in my aunt's closet. Each has a $2 face value, a mark saying it's from the Series of 1917, my uncle's name as depositor and an account number. Can you tell me what they're worth?
A: The U.S. Congress established the Postal Savings System in 1910. Beginning on Jan. 1, 1911, Americans could open savings accounts at post offices. Many immigrants were used to depositing savings at post offices in their native countries. The system paid 2 percent interest per year on deposits, which could not exceed $2,500. After World War II, deposits in the Postal Savings System declined. In 1966, post offices stopped taking deposits or opening new accounts, then cut off interest payments. The system officially ended in 1967, and the $60 million still on deposit was turned over to the Treasury Department to be held in trust. A 1984 law declared that no claims on the funds would be honored after July 13, 1985. Your certificates may no longer be redeemed, but they're worth saving as a future collectible.
Q: I want to ask you about my family's "memory jug." That's what my local librarian discovered that it should be called. I'm 83, and I remember this jug sitting on the top of my family's bookcase when I was a child. It's a heavy bottle covered all over with small objects, including seashells, nails and screws, pinecones, keys, belt buckles, tin-can keys, tiny bottles and dolls, fruit pits and buttons. A doll's head is the bottle stopper, and the whole decorated bottle is covered in bronze-colored paint.
A: Making memory jugs was a popular home craft from the mid-1800s until the early 1900s, and it has had a resurgence in recent years. Some say the craft was brought here by African slaves. A memory jug is made by using putty to attach mementos or familiar personal or household objects to a ceramic or glass bottle or jug. The attached items are reminders of home or loved ones. Some people use a clear glaze to cover the completed jugs, but others paint over them with a colored glaze. Many early jugs are now considered pieces of folk art. Museums around the country have Victorian-era memory jugs in their permanent collections or show them in special exhibitions.
Current prices
Current prices are recorded from antiques shows, flea markets, sales and auctions throughout the United States. Prices vary in different locations.
¢ "Mr. Ed the Talking Horse" TV show board game, Parker Brothers, 1962, $75.
¢ Royal Worcester porcelain ewer, ivory ground, enamel-accented raised gold flowers, scroll handle, marked, 1899, 13 inches, $385.
¢ Jam-Boy Coffee tin, lithograph of boy eating jelly sandwich, ivory ground, Jameson Boyce Co., 1 lb., $410.
¢ Bakelite pin, bulldog, carved, orange dye, celluloid teeth and eyes, 3 inches, $525.
¢ Joe Louis "The Brown Bomber" chalk figure, recessed area by foot forms ashtray, 1940s, 3 1/2 x 12 inches, $610.
¢ Sterling-silver candlestick, flower-form 3-part base, Cellini, c. 1930, 4 inches, $1,200.
¢ RAF Aviator doll, by Norah Wellings, pressed felt swivel head, painted features, blue eyes, velvet uniform, fur-edged boots, parachute, 1940s, 29 inches, $1,795.
Copyright 2018 The Lawrence Journal-World. All rights reserved. This material may not be published, broadcast, rewritten or redistributed. We strive to uphold our values for every story published.