When Kelley Davis saw employees at a gas station on 23rd Street getting ready to change the price signs Tuesday morning, she decided it was time for a quick fill-up.
Davis filled up her car just before the pump price was changed from $2.69 per gallon to $2.75. Despite the $45.06 she paid for that tank of gas, she was just glad it wasn't higher.
"It's crazy," Davis said of gas prices.
It's going to get crazier. Stand by for gasoline at $4 per gallon.
Thanks to the damage Hurricane Katrina has done to the oil and gasoline industry's production, refining and distribution system in the Gulf of Mexico region, gas prices in Kansas could reach the $4 mark, said Kim Mathewson, spokeswoman for Kansas AAA in Topeka. That estimate was made Tuesday by Oil Price Information Service, which provides gasoline price information in the AAA online fuel gauge report, Mathewson said.
No one was predicting how quickly gasoline prices would rise, but when you woke this morning, most likely stations were already raising prices again, Mathewson predicted Tuesday.
"I don't think we're going to have any kind of decrease in the next couple of months," she said.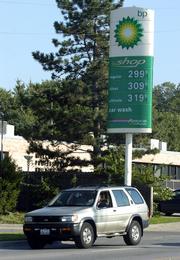 Even though hurricane damage was limited to Louisiana, Mississippi and Alabama, an estimated 50 percent of the nation's gasoline originates in the Gulf area, where pipelines and barges carry it to other areas of the country, according to a report issued by AAA.
It also is unclear whether a move under consideration by President Bush to allow limited release from the U.S. Strategic Oil Reserve will help the problem. The current supply of oil is good; the problem is getting it through the refining and distribution system, Mathewson said.
The skyrocketing gasoline prices come just as the nation was preparing to celebrate the Labor Day weekend. Before Katrina struck, AAA was predicting more than 34.5 million people would travel 50 miles or more, with 28.8 million of them traveling by vehicle. So far there are no revised travel estimates because that would mean another round of surveys, Mathewson said.
No price gouging
Gas stations began raising prices in Lawrence and elsewhere Tuesday even though a full assessment of the damage to the oil and gasoline system hadn't been made.
The Kansas Attorney General's Office on Tuesday afternoon had not received any allegations of gasoline price gouging from the public, spokesman Whitney Watson said.
There is no state statute that defines what price gouging is, Watson said. But based on previous court decisions, prices would have to be at least 2 1/2 times the "normal market price," he said. With pre-hurricane rates in the $2.50 to $2.60 range, that would mean $5 to $6 per gallon prices before price gouging could legitimately be considered, he said.
"That doesn't mean that if overnight a gas station increased prices by a $1.50 that we wouldn't look at that," Watson said. "We monitor the situation all the time, but we have to go with what the courts have indicated in the past."
Winter heating concerns
Though fall and winter are approaching, it is still too early to tell how gasoline prices will affect rates for utility customers using natural gas or propane, industry officials said.
Propane rates were expected to be 10 percent to 15 percent higher across the board this winter before Katrina struck, said Justin Holstin, executive vice president of Propane Marketers Assn. of Kansas.
"We're actually not expecting to be any higher than usual because the interruption in the Gulf of Mexico is temporary," Holstin said, adding that he might have a better understanding of the situation later in the week.
The hurricane damage will probably cause higher natural gas rates, but it was not known how much an increase might be, said George Minter, vice president of corporate communications at Aquila, which provides natural gas to Lawrence customers.
Davis was stunned when she was told gasoline prices could reach $4 per gallon. The single mother of two said prices that high would force her to drastically change her driving habits. Her children would have to take the bus to school and she would walk to the grocery store.
"I think everybody should just not drive," she said. I can make a tank of gas last a month and a half if I have to, just to be a snot about it."
Copyright 2018 The Lawrence Journal-World. All rights reserved. This material may not be published, broadcast, rewritten or redistributed. We strive to uphold our values for every story published.