The potential damage to oil platforms, refineries and pipelines that remain closed along the Gulf Coast drove energy prices to new highs Tuesday, with crude futures briefly topping $70 a barrel and wholesale gasoline costs surging to levels that could lead to $3 a gallon at the pump in some markets.
Companies scrambled planes and helicopters to get an aerial view of their assets and they began escorting some previously evacuated workers back to offshore facilities to conduct detailed inspections of rigs and underwater pipes. Some producers found that a rig or platform had disappeared or drifted, while others reported that damage appeared minimal.
Onshore, wind and flooding from Hurricane Katrina is expected to have caused enough damage to pipelines, storage tanks and refineries that it could take weeks, and in some cases months, before operations return to normal, analysts said.
"It's ugly," said Lawrence J. Goldstein, president of the New York-based nonprofit Petroleum Industry Research Foundation. "Power is a problem, but the water issue is unbelievable."
To avert a severe supply crunch, Goldstein said the government should relax summer gasoline specifications to immediately free up motor fuel supplies otherwise being held in storage until Sept. 15. He said the U.S. also should seek help from European nations, who might be willing to lend, exchange or sell gasoline and other fuels out of their own inventories.
The production and distribution of oil and gas remained severely disrupted by the shutdown of a key oil import terminal off the coast of Louisiana and by the Gulf region's widespread loss of electricity, which is needed to power pipelines and refineries.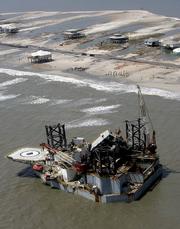 The trading frenzy on futures markets reflected the uncertainty and fear about the full extent of the damage Katrina inflicted, as well as the constraints being felt where actual shipments of gasoline, heating oil and jet fuel are bought and sold.
"This is an extremely serious situation," said Tom Kloza, director of the Wall, N.J.-based Oil Price Information Service.
Light sweet crude for October delivery rose $2.61 to settle at $69.81 a barrel on the New York Mercantile Exchange. Prices had reached as high as $70.85, a new high on Nymex, although still below the inflation-adjusted high of about $90 a barrel that was set in 1980.
September gasoline futures rose 41.44 cents to $2.4750 a gallon on Nymex, where trading was halted briefly after the exchange's 25-cent trading limit was reached. Heating oil futures climbed by 16.71 cents to $2.0759 a gallon.
In wholesale markets on the Gulf Coast, some gasoline was being priced as high as $2.85 a gallon and in the Midwest, prices were as high as $2.65 a gallon, according to Kloza. Retail prices are typically 60 cents higher, meaning motorists in these regions could very well see $3 a gallon at the pump in some markets.
Natural gas futures raced higher as well. Natural gas for October delivery traded at $11.659 per 1,000 cubic feet, an increase of 52 cents.
In a sign of the havoc Katrina caused, Houston-based Diamond Offshore Drilling Inc. reported one missing rig and another that broke free from its moorings, but which was found about nine miles north of its original location.
Houston-based Newfield Exploration Co. said one of its production platforms had disappeared. It had produced about 1,500 barrels a day. Newfield Exploration Co. expects to replace the platform within six to seven months.
A spokesman for the Natural Gas Supply Assn. said it was too soon to determine the entirety of the damage inflicted on the industry. Analysts believe the operations of natural gas processors and chemical manufacturers, who depend heavily on natural gas as a feedstock, could be disrupted for weeks.
The runup in natural gas and heating oil futures is expected to result in sharply higher home-heating bills this winter.
In addition to refineries and oil platforms, critical infrastructure that remained out of service included:
l the Louisiana Offshore Oil Port, the largest oil import terminal in the United States.
l the Colonial Pipeline, which transports refined products such as gasoline, heating oil and jet fuel from Houston to markets as far away as the Northeast.
l the Plantation Pipe Line, which transports fuel from refineries in Mississippi and Louisiana to consuming markets as far away as northern Virginia.
l the Capline pipeline system, which transports crude oil from the Gulf to the Midwest.
Many energy companies struggled just to visit their facilities.
Such is the case for Chevron Corp., which shut down its 325,000 barrel a day Pascagoula, Miss., refinery before Katrina's arrival.
"We are hoping to get in there today, but that's the issue - getting there," said Michael Barrett, company spokesman.
BP PLC spokesman Scott Dean said the company managed to conduct aerial overflights of several deepwater oil and gas platforms and that the damage appeared to be minimal. The company also brought a few workers back to their offshore rigs to get a closer look. "I still can't speculate on when we'll resume production," he said.
But even if offshore platforms and rigs are ready to resume production, many may have to wait until onshore pipelines, refineries and processors are ready to take delivery of the oil and gas, industry officials said.
Valero Energy Corp. said its St. Charles refinery in Norco, La., which has capacity of 260,000 barrels a day, might not be restarted for another two weeks.
An Energy Department spokesman said there have been requests from two companies seeking loans of crude oil from the U.S. Strategic Petroleum Reserve. No decision has been made yet about whether to lend the oil, spokesman Craig Stevens said.
At least eight Gulf Coast refineries in the path of Hurricane Katrina have shut down or reduced operations, taking out anywhere from 8 percent to 10 percent of the nation's production capacity, according to company and federal reports.
Katrina, which struck the Gulf Coast as a Category 4 storm, was blamed for at least 55 deaths and the evacuation of more than 700 offshore platforms and rigs. It slammed into a major oil production hub at a time when producers worldwide were already struggling to cope.
Organization of Petroleum Exporting Countries secretary general Adnan Shihab-Eldin reiterated Tuesday that the group would supply extra barrels of crude oil to refiners if they want them. Previous OPEC pledges have done little to ease market fears over supply.
The U.S. Minerals Management Service said Monday that 95 percent of the region's oil output was out of service, with more than 4.6 million barrels of production lost since Friday. The agency said 88 percent of natural gas output was shut down, resulting in a loss of 25.4 billion cubic feet of lost production since Friday.
The Gulf of Mexico normally produces 2 million barrels of crude oil a day and about 10 billion cubic feet a day of natural gas.
Copyright 2018 The Associated Press. All rights reserved. This material may not be published, broadcast, rewritten or redistributed. We strive to uphold our values for every story published.