The debate over how evolution is taught in Kansas schools has damaged Kansas University's national reputation and made it tougher to recruit faculty and top students, KU Provost David Shulenburger said Monday.
"For the state to be portrayed repeatedly in the national press as being anti-science does damage to this university," Shulenburger said. "The frustration is you fight this reputation problem every step of the way."
Shulenburger said he believes the debate and the state's reputation are partly to blame for KU's recent drop in U.S. News and World Report magazine's rankings. KU dropped three spots to rank 45th among public universities.
Kathy Martin, a conservative member of the state school board and evolution opponent, said she doesn't think the debate is responsible or that it hurts the reputation of Kansas or KU.
"I feel most people could probably care less," she said. "I really don't think it's that big of a deal except in certain circles."
Martin dismissed Shulenburger's statements as "rhetoric."
"I don't think it's changed the reputation at all," she said. "It's helped in academic circles that are open-minded."
KU faculty who work with hiring new staff say it's difficult to determine how the political debate has affected job candidates' decisions, but they worry there is subtle damage being done and some excellent candidates might steer clear of Kansas altogether.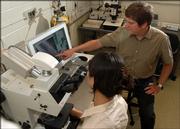 "It's another issue we have to deal with beyond the normal recruiting process," said James Orr, professor and chairman of the division of biological sciences.
Ann Brill, dean of the School of Journalism and Mass Communications, said she has talked with many people regarding openings in the area of science communications. The evolution debate has come up repeatedly, she said.
"I'm worried more about the people I'm not talking to who aren't really bothering (to apply)," she said.
The political debate might have pushed Erik Lundquist away, if the timing hadn't been off. The assistant professor in the department of molecular biosciences signed a contract to come to KU from San Francisco in 1999. Weeks later, the state school board approved science standards that de-emphasized evolution.
"Had that happened two weeks earlier, I probably would not have come here," Lundquist said. "You don't want to work in a state that is governed by people who don't appreciate science."
-->
Years later, Lundquist continues to work at KU. He said it's difficult to measure how the debate affects his work, but many colleagues bring it up in conversation. The debate makes it hard to get funding and to keep it, he said.
"Why would you give $1.5 million to Kansas that is anti-science rather than give it to a state that supports science?" he said.
Lundquist said the debate spurs some candidates to question whether they want their children to attend Kansas schools.
"I think we're missing a whole pool of people here who don't even apply," he said.
Craig Martin, professor and chair of the department of ecology and evolutionary biology, said he has only anecdotal evidence that the debate hurts recruitment.
"We're worried about subtle effects that this kind of negative image has planted in other people's mind," he said.
The assessment of top officials at peer institutions accounts for 35 percent of the U.S. News rankings. In that category, KU dropped from 3.4 to 3.3 out of a possible 5.
At the same time, the six-year graduation rate dropped by 1 percent, the percentage of classes with 50 or more students rose by 1 percent, and the acceptance rate inched up 1 percent.
Shulenburger said the university has seen success in many areas. He said he infers that the peer assessment has declined because of the state's publicity.
"You just can't find negative publicity about this university nationally," he said. "What you find is all that negative publicity about Kansas."
Copyright 2018 The Lawrence Journal-World. All rights reserved. This material may not be published, broadcast, rewritten or redistributed. We strive to uphold our values for every story published.