Detroit — Marc Bulger made accurate passes, receivers made catches in open space, and Steven Jackson ran over and around defenders.
The St. Louis Rams resembled the team that won the Super Bowl five years ago, and the Detroit Lions looked like the NFL's worst franchise since 2001.
Bulger accounted for two touchdowns, Isaac Bruce had 85 yards receiving and a score, and Jackson ran for 108 yards and a TD to lead St. Louis to a 37-13 exhibition victory over Detroit on Monday night.
"We treated this like a regular-season game," Bulger said. "Whether they did or not, who knows?"
The Lions took the game seriously, but seemed to have many of the same old problems.
"There are no excuses for a game like this," Detroit coach Steve Mariucci said. "I thought we were very fired up and ready to go, but it just didn't happen on the field.
"It's alarming."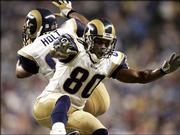 The game was similar to the last one featuring the Lions on national television in prime time, a 35-0 setback against St. Louis on Oct. 8, 2001.
"It is tough to swallow a game like this, when we had a showcase to show how good we are," said tight end Marcus Pollard, one of Detroit's additions in the offseason.
Detroit has lost an NFL-high 48 games the past four years, while the Rams have been a playoff-caliber team since winning a title.
With crisp passing and Jackson's running, the Rams (2-1) led 21-6 at halftime, a score Mariucci said would be important entering the game.
The Rams were so dominant on an 11-play, 90-yard drive in the first quarter they didn't have a third down.
Bulger was 11-of-14 for 167 yards, threw a TD pass and ran for a 7-yard score, untouched on a sneak. Jackson ran for 64 yards on his first of 14 carries, and scored on a 3-yard run. Bruce had five receptions, including a 31-yard TD catch.
Copyright 2018 The Associated Press. All rights reserved. This material may not be published, broadcast, rewritten or redistributed. We strive to uphold our values for every story published.