St. Paul — He moves slowly. His posture is slumped. But when it comes to making movies, 80-year-old Robert Altman has a young man's fire.
The director recently completed shooting a movie based on humorist Garrison Keillor's radio show "A Prairie Home Companion" - on budget and three days ahead of schedule.
But there's little time to rest. Altman says he already has two more projects lined up - "Hands on a Hardbody," about contestants who win a car by touching it the longest, and a movie version of "Resurrection Blues," one of the late Arthur Miller's last plays.
"I'll be doing this as long as I last and as long as people allow me to do it," Altman says.
Altman, a native of Kansas City, Mo., has more than 30 movies to his credit and five Academy Award nominations for directing, though he hasn't won an Oscar. With his ensemble casts and use of overlapping dialogue - which gives viewers the feeling of eavesdropping on conversations - Altman blazed a cinematic trail in the 1970s with "M-A-S-H" and "Nashville." After stumbling with "Popeye" in 1980, Altman came back with "The Player" (1992), a Hollywood satire; "Short Cuts" (1993), a collection of Raymond Carver short stories; and the murder mystery "Gosford Park" (2001).
Altman got his start in television on "Alfred Hitchcock Presents." He's hard-pressed to remember his influences, but knows what he would avoid: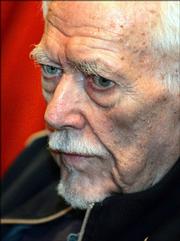 "I would see a film and I'd think it's so bad, I'm never going to do this. So most of that influence that I've had is by directors whose names I don't know."
Q: How do you stay active at 80 years old and all these years in the business?
A: Well, what else would I do? Maybe sleep. No, it's what keeps me going. I love it. I have a terrific time at it. There's nothing I would rather do than play in this big sandpile.
Q: What attracted you to the "Prairie Home Companion" movie?
A: Well, actually, Garrison and I share a lawyer in New York. And when I was in Chicago shooting a dance film called "The Company" (the lawyer) contacted me and said Garrison was kind of interested in doing a film. And he (Keillor) liked my stuff.
Q: Were you a fan of "A Prairie Home Companion"?
A: My wife is a big fan, and I was aware of Garrison and his stuff and listened to it quite a bit.
Q: How do you attract the stars that you do for a production like this, like Meryl Streep and Lily Tomlin?
A: Well, I don't know. Lily I've known. She's the only one of these people I've worked with before. But I think it's reputation. I've done a lot of films. But I think Meryl came into this and wanted to do this because she got to sing. And I think all of them are the same way. They got an opportunity to do the kind of things that normally they don't do, they don't get invited to do.
Q: How did Lindsay Lohan get involved?
A: A lot of these actors are from the same agency of hers, and they called and said, "We'd love to put Lindsay in this thing. Is there a place for her?" And we made a place for her. Because she attracts an audience. We know that we're going to get all the "Prairie Home Companion" (fans).
Q: So, you'll catch a teenage crowd because Lindsay's in it?
A: Yeah, I mean there's that, and there's Meryl. And then also we'll attract the press. So it will be written about. Now whether it will be written about kindly will depend on what it is, what it looks like. And so far all the parts I'm very happy with. I haven't seen them together. I don't know what it's going to add up to. But my instinct and my experience tells me we've got a little diamond here.
Q: You've had movies that have been popular and critical successes. But I like some of the almost cult films, like "O.C. and Stiggs."
A: Well, I've never had a big hit movie. "M-A-S-H" was probably the biggest. I don't make those kind of films, and I never have. I wish each one of them would just do billions of dollars worth of ticket sales, but they never do and they never will.
Q: Is it audience's taste?
A: I think it is audience ... The audience is teenage boys, 14-year-old boys. And I have never made a movie that's attracted a 14-year-old boy. The one I kind of went after, that was about them, was "O.C. and Stiggs," and that was a big flop.
Copyright 2018 The Associated Press. All rights reserved. This material may not be published, broadcast, rewritten or redistributed. We strive to uphold our values for every story published.