Toronto — Travis Hafner had no idea Grady Sizemore was going to steal home during his at-bat. He just knew not to swing.
Hafner took a two-strike pitch as Sizemore stole home, and Hafner later hit the first of his two homers as Cleveland beat the Toronto Blue Jays, 9-3, Friday night for the Indians' eighth victory in nine games.
Sizemore got off to a huge lead from third in the first inning and broke for home before Dustin McGowan (1-2) started his windup. Catcher Guillermo Quiroz didn't attempt a tag as Sizemore easily slid in safely for Cleveland's first straight steal of home since Omar Vizquel on May 27, 2003, at Detroit.
"I didn't know what he was doing. I thought maybe he had to run to the bathroom or something," Hafner joked. "If I had swung and hit Grady in the face, I would have had every woman in America mad at me."
Sizemore was worried Hafner would kill him.
"I'm sure Hafner was ragging on me after I stole his RBI," Sizemore said.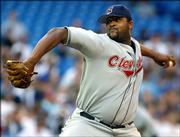 Hafner went for it after noticing the third baseman wasn't even close to third and seeing that he could get a huge lead. He told third-base coach Joel Skinner that he could do it the pitch before.
"Throughout the at-bat, I just kept going farther and farther," Sizemore said. "I wanted to see how much they would let me have before they stopped me. They never did, and I told Skins, 'I can take this.'"
C.C. Sabathia, who won his fifth straight start, said it pumped up the Indians.
"That was crazy," Sabathia said. "It definitely helped Travis out because the guy left a change-up high a couple of pitches later."
Hafner hit a solo shot off McGowan and added a two-run homer off Justin Speier in the ninth, his second two-homer game this season and the seventh multihomer game of his career.
Victor Martinez and Ronnie Belliard also homered for the Indians, who are less than a percentage point back of the New York Yankees and Oakland in the AL wild-card race. The Indians are a major-league-best 18-6 since July 31.
Martinez had four hits, including a solo homer off McGowan in the third, and scored four runs.
Sabathia (11-9) allowed three runs and six hits in six innings, striking out seven. He hasn't lost since July 30.
White Sox 5, Mariners 3, 12 innings
Seattle - Tadahito Iguchi's two-run homer with two outs in the top of the 12th off closer Eddie Guardado gave Chicago a victory over Seattle.
Brian Anderson, a rookie playing in his fifth major-league game, hit two homers off Seattle's 19-year-old rookie sensation Felix Hernandez, who had not given up an extra-base hit in his first four starts.
Red Sox 9, Tigers 8
Boston - Manny Ramirez drove in three runs as Boston rallied after a reversed call gave Detroit a disputed homer.
Damage from the stage used by the Rolling Stones for two concerts forced the grounds crew to replace at least half the outfield surface after Tuesday night's show. It had no effect on the fielders, and the hits kept coming.
Detroit hit four homers, and the Red Sox found their stroke in the opener of a season-long 14-game homestand. Boston, which leads the second-place New York Yankees by 21â2 games in the AL East, came off a 4-6 trip that ended with two losses in three games at Kansas City.
Devil Rays 12, Angels 8
St. Petersburg, Fla. - Jorge Cantu, Travis Lee and Jonny Gomes all homered in a nine-run fourth inning, and Tampa Bay went on to beat Los Angeles.
Cantu also had a first-inning RBI double and a two-run double in the seventh to finish with a career-high five RBIs.
Athletics 4, Orioles 1
Baltimore - Joe Blanton allowed four hits over six shutout innings, and Bobby Crosby hit a two-run homer, leading Oakland past Baltimore. Eric Chavez drove in a run and scored one for the Athletics, who have won three straight after losing seven of eight. Oakland is 15-3 in its last 18 road games.
Blanton (8-9) struck out six and walked three in winning his third straight decision. The rookie is 3-0 with an 0.95 earned-run average in five starts in August.
Rangers 6, Twins 0
Arlington, Texas - David Dellucci and Alfonso Soriano homered in a four-run third inning, and rookie Kameron Loe pitched five shutout innings in his second major-league start for Texas.
Loe (6-4) was making his first start of the season after 40 relief appearances, and he allowed five hits and struck out five without a walk. Rookie C.J. Wilson allowed one hit over the final four innings.
Copyright 2018 The Associated Press. All rights reserved. This material may not be published, broadcast, rewritten or redistributed. We strive to uphold our values for every story published.