From a young age, John T. Whitehead had problems controlling his impulses.
His elementary-school teachers had to restrain him during temper tantrums and fits of rage. From ages 11 to 17, he lived in state mental-health hospitals.
In 1997, he found what seemed to be a stable home at a west-side Lawrence apartment complex populated largely by low-income residents and people with special needs.
"I felt safe there," he said.
But in January, everything changed for Whitehead and his neighbors at Westgate Apartments when police got a tip from someone who reported hearing Whitehead say he had sexual fantasies about children. During a four-month investigation, police got Whitehead to admit he played on the playground and roughhoused with children - sometimes as parents stood by - as a way to sexually arouse himself before masturbating.
Today, Whitehead, 30, is a registered sexual offender and is on probation with a conviction for aggravated indecent solicitation of a child.
He said he knew he had made mistakes.
But he and his father, Fred Whitehead Jr., spoke out about the case this week, saying they think John's mental-health issues have been overlooked in the uproar about his case. Despite his sex-crime conviction, they say, John Whitehead is not a monster.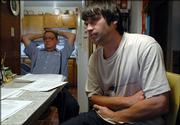 "I would never go out and hurt a child," John Whitehead said Thursday as he sat at his parents' kitchen table. "I think there was a lot of immaturity. I think I have a lot of immature behaviors that need to be cured, and this happened to be one of them."
Differing views
In the eyes of police, prosecutors and some neighbors, Whitehead is a public-safety menace who sought contact with children for his pleasure.
"Thank God we escaped," one of the children's' parents said at Whitehead's sentencing.
To Whitehead's supporters, including his father and former Westgate neighbor Jan Pool, he's a child in a man's body who needed better mental-health treatment than he was getting.
Both versions can be true, said Dennis Detweiler, a certified sex therapist in Lawrence.
"It's not an either-or," Detweiler said. "This is a man who had multiple strikes against him in terms of being able to curb his sexual impulses. ... Still, the community has to protect itself from people like Mr. Whitehead."
Detweiler said developmentally delayed people such as Whitehead could be more likely to be "sexually troubled."
"Whenever someone is underdeveloped sexually, one of the outcomes is that they might find younger persons not only easy to relate to but also as viable sex partners," he said.
Troubled background
Growing up, John Whitehead said, he dealt with depression, a learning disability and obsessive-compulsive disorder that manifested itself in a desire to collect things such as office supplies.
He went to live at Topeka State Hospital when he was 11 years old. His father said he sought to remove John from the hospital after a doctor gave him an overdose of a medication.
The young Whitehead was then moved to the state hospital in Parsons for about a year and a half. John Whitehead said that during his time in the program, he was sexually abused by other boys who touched him where he "didn't want to be touched."
After getting out of Parsons at age 17, he came back to Lawrence and eventually received his high school diploma.
Around that same time, he told police, was when he began cutting out pictures of children from magazines and catalogs.
According to police reports, Whitehead clipped photos of clothed children and added word-balloon captions with phrases such as "does it tickle?" and references to passing gas. He often used a disposable camera to photograph children around the apartment complex - often in poses that have no overt sexual overtones.
Whitehead has had a case manager for about the past four years at Bert Nash Community Mental Health Center. According to police reports, he told his case worker in 2003 about his attraction to children.
But Whitehead told a judge at his sentencing that, as he worked on all his other mental-health issues, his sexually related issues got put on the "back burner."
A Bert Nash spokesman could not be reached for comment Friday.
Risk of escalation?
Prosecutors said Whitehead's actions never escalated to actually touching children's genitals with his hands or having them touch his. Instead, he would give them piggy-back rides, have them sit on his lap or ride down the slide with them, until the arousal became too much to handle - at which point he would go back to his apartment.
John Whitehead said that, had he remained in the apartment complex, he wouldn't have been at risk of escalating his behavior. Before that would have happened, he said, he would have told his case worker about his urges and sought more intensive help.
But Dennis Dailey, a clinician and Kansas University professor who studies human sexuality, said it was impossible to predict how or whether sex-offenders' behavior would escalate.
He also said people shouldn't assume that one kind of sex crime caused less harm than another.
"Some very innocent behaviors can be extraordinarily traumatic to children," he said. "If there is even the remotest kind of coercion involved, it can be very troublesome."
Assistant Dist. Atty. David Melton acknowledged that, in this case, the children listed as victims may not have actually been harmed. Still, he said he believed it was important to remove Whitehead from the apartment complex and gain a means of controlling him.
Alleged 'hysteria'
Whitehead's supporters say it's telling that some of the key pieces of evidence against Whitehead were his own voluntary statements to police, in which he admitted being aroused by contact with children and pictures of children.
They say his willingness to admit his actions to police showed that he has a good heart and a respect for authority.
Whitehead's father said he believed his son was caught up in what he called a national "hysteria" involving sex offenders.
"Sex offenders are a huge problem, there's no question, but I think he got nailed unjustly," Fred Whitehead said. "This was a clinical problem, and it should have been dealt with that way. ... In this particular case, I think a lot less force and heat would have produced better results."
John Whitehead said he entered a plea because he knew there was a chance he could be convicted and go to prison if he went to trial.
KU professor Dailey said he thought the system was working they way it should.
"The police department is not a mental-health agency, and they responded to a complaint," he said. "My guess is that the police did exactly what they should have done, and the county attorney did exactly what he should have done. The issue now is what would be the most humane and civilized way to resolve this issue."
What now?
While the investigation was pending, John began getting sex-related treatment at Heartland Clinical Consultants, which he said has helped.
He said he remains in touch with his case worker and members of his church and is continuing his volunteer work as a janitor at a medical clinic. He's gone back to live with his parents in the Prairie Park neighborhood.
But he said at times he struggled with depression, mood swings and thoughts of suicide.
"Being in this kind of situation and having this going on, medication does not work," he said. "It's kind of like I just want to leave people behind and forget about it."
One condition of his probation is that Whitehead not have unsupervised contact with children or physical contact with children.
"We don't want him playing with the kids like he was doing before," Assistant Dist. Atty. Melton said. "You have to use common sense. We're not going to try to (revoke his probation) for just going to Wal-Mart."
Copyright 2018 The Lawrence Journal-World. All rights reserved. This material may not be published, broadcast, rewritten or redistributed. We strive to uphold our values for every story published.