Jean Grant and Bob Fraga don't pretend their house is up to Mr. Clean's tidiness standards.
And that authenticity suits them just fine.
"We just love it," Grant said. "Some people might not like it. The walls are stone, and there are gaps between some of them. You dust, but still you get crud and dust in there. It doesn't look spick-and-span. But it is clean by medieval standards."
That's because the house actually dates back to late in the Middle Ages.
Since 1976, the couple have called the house in southern France - part of which was built in the 13th century, the rest in the 15th - home for part of the year, and usually always during the summers.
For the past nine years, the couple have spent the rest of the year in Lawrence, where Fraga commuted to Baker University in Baldwin as a professor of math and computer science. He recently retired.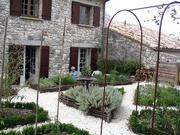 Now, Grant and Fraga are offering a stay at their French home as part of an auction to benefit Habitat for Humanity this weekend at Plymouth Congregational Church, 925 Vt.
"I feel guilty," Grant said. "It doesn't seem to be right, that we have two houses when a lot of people don't have houses at all."
Auction organizers are expecting the time at the house to be a top fund raiser at the live auction, which is from 10:45 a.m. to noon Sunday. A silent auction runs from 7 a.m. to 3 p.m. Saturday and 10:45 a.m. to noon Sunday.
"It kinds of remains to be seen" how much money could be raised, said Margaret Kramar, the auction committee chairwoman. "That's really generous of her, to essentially let strangers stay at her house."
The house would be available for a week from mid- to late-September, or during the entire month of October. Grant said she offered the entire month of October because the weather could be unpredictable.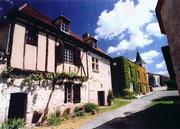 The auction winner would be required to pay for travel expenses.
Grant and Fraga bought the house in 1976 from one of Fraga's colleagues. It cost $7,000 at the time, but Grant said it's worth "several hundred thousand" dollars now.
The house has old, wooden doors, several large fireplaces, two studies and a modern bathroom. Outdoors, it has a medieval garden, with plants that would have grown there in the Middle Ages.
The couple have put a lot of work and money into the house through the years.
"When we bought it, it was in ruins and rat-infested," Grant said. "Now it's gorgeous."
The house is in Eyrenville, France, a tiny village about 3 miles from the nearest market and stores.
The fall, Grant said, is a "festive" time of the year. Locals will be harvesting grapes for wines.
"It is so relaxing," she said. "There's nothing to do too much. If you want, you can just sit around and eat and drink."
Habitat Auction
Plymouth Congregational Church's first auction for Habitat for Humanity is this weekend.
A silent auction, featuring the bulk of items, will be 7 a.m.-3 p.m. Saturday and 10:45 a.m.-noon Sunday. Among the items in the silent auction will be Indian Head pennies, antique textile from Turkey and artwork, which will be on display in the church's Mayflower Room. The live auction will be 10:45 a.m.-noon Sunday, also in the Mayflower Room. Items will include a week or month at a 13th-century home in France and a week at an apartment in Norway.
Donations are still being accepted through Friday at the church, 925 Vt. For more info, call 887-6768.
Copyright 2018 The Lawrence Journal-World. All rights reserved. This material may not be published, broadcast, rewritten or redistributed. We strive to uphold our values for every story published.