Caracas, Venezuela — Pat Robertson's call for American agents to assassinate President Hugo Chavez is a "terrorist" statement that needs to be investigated by U.S. authorities, Venezuela said Tuesday. The Bush administration quickly distanced itself from the religious broadcaster.
Robertson's suggestion Monday that the United States "take out" Chavez to stop Venezuela from becoming a "launching pad for communist influence and Muslim extremism" appeared likely to aggravate tensions between the United States and the world's fifth-largest oil exporting country.
Chavez, who was democratically elected, has emerged as one of the most outspoken critics of President Bush, accusing the United States of conspiring to topple his government and possibly backing plots to assassinate him. The United States is the top buyer of Venezuelan oil, but Chavez has made it clear he wants to decrease the country's dependence on the U.S. market by finding other buyers.
Winding up a visit to Cuba, Chavez said in response to questions from reporters about Roberston's remarks that such comments did not matter to him and that he would prefer to "talk about life."
"I don't even know who that person is," said Chavez, standing next to Cuban leader Fidel Castro at Havana's airport.
In Venezuela, however, Vice President Jose Vicente Rangel said the U.S. response to Robertson would be a test of its anti-terrorist policy and that Venezuela was studying its legal options.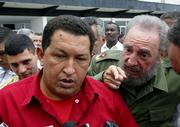 At the Pentagon, Secretary of Defense Donald H. Rumsfeld said when asked about Robertson's comments: "Our department doesn't do that kind of thing. It's against the law. He's a private citizen. Private citizens say all kinds of things all the time."
Rumsfeld said he knew of no consideration ever being given to assassinating Chavez.
Robertson is a founder of the Christian Coalition of America.
On Monday, Robertson said on the Christian Broadcast Network's "The 700 Club": "We have the ability to take him (Chavez) out, and I think the time has come that we exercise that ability."
"We don't need another $200 billion war to get rid of one, you know, strong-arm dictator," he continued. "It's a whole lot easier to have some of the covert operatives do the job and then get it over with."
Copyright 2017 The Associated Press. All rights reserved. This material may not be published, broadcast, rewritten or redistributed. We strive to uphold our values for every story published.