Columbia, Mo. — The family of a Missouri football player who collapsed following a workout last month filed a wrongful-death lawsuit against the school Tuesday, the same day medical examiners said Aaron O'Neal died of viral meningitis.
Swelling in the 19-year-old's brain subsequently affected his heart and caused him to lose his ability to properly breathe, Boone County Medical Examiner Valerie Rao said. Toxicology tests ruled out steroids, performance supplements, alcohol and other drugs as contributing factors.
"The manner of death is natural," Rao said a news conference.
She told O'Neal's family and the Tigers football team about her findings Monday.
But while the cause of death was not directly related to an on-field injury or a training regimen, the autopsy results still didn't resolve questions about O'Neal's care, said St. Louis attorney Bob Blitz, who is representing O'Neal's father in a lawsuit filed in Boone County Circuit Court.
The suit names 14 university athletic officials, including athletic director Mike Alden and coach Gary Pinkel, the head trainer and head strength and conditioning coach.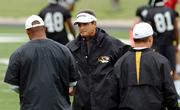 "When you have viral meningitis, these symptoms start showing before," Blitz said. "Nobody really dies from viral meningitis unless you have symptoms."
In a statement, the attorney said the legal action was a result of "preposterous denial by University of Missouri officials of any responsibility for Aaron's demise."
O'Neal, a backup middle linebacker who was 6-foot-3 and weighed 220 pounds, started to struggle during conditioning drills about 45 minutes into the July 12 session, during which players
continued from page 1c
wore shorts, T-shirts and football cleats but no helmets or pads. As required by NCAA rules, head Pinkel and his assistants did not attend the sessions, which are billed as voluntary.
He slumped to the ground after the final drill and was helped off the field by a teammate. He was pronounced dead at University Hospital at 4:05 p.m., or just over 90 minutes after the workout ended.
Rao's autopsy report, which included the results of interviews with 11 players, eight conditioning coaches and three trainers present at the July 12 workout, also raises questions about the moments leading up to O'Neal's death.
O'Neal repeatedly lost his balance during a stretching exercise and told a player and a conditioning coach, both unnamed by Rao, that "he could not see and his vision was blurred."
Once O'Neal was on the ground after the final drill, a trainer who examined him concluded that "there was nothing that could be done," Rao wrote.
In the team locker room after the workout, O'Neal's tongue had turned white and he was "gasping and moaning," according to Rao's report.
An athletics staff member, identified in the lawsuit as Josh Stoner, associated director of strength and conditioning, then flagged down a university groundskeeper and, with the help of another football player, loaded an unconscious O'Neal into a pickup truck.
O'Neal was taken to the football team offices before he was taken to the hospital - a delay that Blitz said proved fatal.
Meningitis, an inflammation of the tissues that cover the brain and spinal cord, can be caused by both bacterial and viral infections. Symptoms include headaches, fever, neck stiffness, vomiting, sensitivity to light, drowsiness or confusion. Viral meningitis is serious, but rarely fatal, while the bacterial variety can quickly cause death or disability.
Copyright 2018 The Associated Press. All rights reserved. This material may not be published, broadcast, rewritten or redistributed. We strive to uphold our values for every story published.