Lima, Peru — A Peruvian airliner carrying 100 people crashed Tuesday near a jungle town while attempting an emergency landing in a storm, killing at least 37 people. The pilot tried to land in a marsh, but the impact split the aircraft in two, a regional official said.
At least 57 people from TANS Peru Flight 204 were being treated at hospitals, and it was not clear whether anyone had escaped injury in the crash, the latest of several major airline accidents around the world this month.
The Boeing 737 went down near the Pucallpa municipal airport after the pilot radioed that he could not land because of strong winds and torrential rains, airport receptionist Norma Pasquel told The Associated Press by phone.
The plane circled the airport, then crashed near a highway, according to officials and radio reports.
Edwin Vasquez, president of the Ucayali region, where Pucallpa is located, told Radioprogramas that at least 57 people - including two young children - were being treated in hospitals. He said the pilot was trying to land in a marsh to soften the impact when the plane crashed. The craft split in two, he said.
"I felt a strong impact and a light and fire and felt I was in the middle of flames around the cabin, until I saw to my left a hole to escape through," crash survivor Yuri Gonzalez told Radioprogramas. "Two other people were struggling to get out and I also was able to."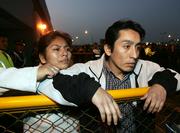 He said he heard another person shouting to him to keep advancing because the plane was going to explode. "The fire was fierce despite the storm," he said. "Hail was falling and the mud came up to my knees."
Canal N television broadcast photo images of survivors being carried on stretchers from a grassy field strewn with wreckage.
Jorge Belevan, a spokesman for TANS, said that the plane was on a domestic flight carrying 92 passengers and eight crew members and was attempting an emergency landing when it crashed. He said that two of 11 Americans aboard were unaccounted for and that the others were hospitalized for treatment of unspecified injuries.
Cesar Arroyo, a provincial prosecutor, told Radioprogramas from the crash site that between 37 and 40 bodies had been pulled from the wreckage.
"There are still many more bodies to recover but now they have stopped operations because of darkness and the muddy terrain," he said. He said work would resume this morning.
Copyright 2018 The Associated Press. All rights reserved. This material may not be published, broadcast, rewritten or redistributed. We strive to uphold our values for every story published.