Minneapolis — With Johan Santana and Freddy Garcia in an old-fashioned pitchers' duel, the Minnesota Twins and Chicago White Sox put on a pennant-race classic despite the distance between them in the AL Central.
Jacque Jones ended Garcia's no-hit bid with a home run to lead off the eighth inning, and Santana pitched the Twins past the White Sox, 1-0, on Tuesday night.
"When you have a game like that," Santana said, "you know it's only going to take one mistake."
It was Garcia (11-6) who faltered, leaving a 1-2 curveball a little too high for Jones - who smacked it over the wall in center field for his team-leading 18th homer and the Twins' only hit of the game.
"I didn't look," Garcia said. "I knew that it was gone."
Santana (13-6) gave up three hits and walked one in eight innings, striking out seven in a battle of perhaps Venezuela's two best pitchers. Santana, last year's AL Cy Young Award winner, improved to 6-1 after the All-Star break.
Garcia walked two and struck out three in eight innings to become the first White Sox pitcher to lose a one-hitter since 1983.
The first-place White Sox saw the Twins move within 91â2 games of them in the AL Central - with Cleveland in second, seven games out.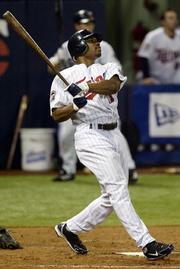 "Keep playing like that and it'll turn. We're on the right track, I can tell," said Chicago's Paul Konerko, providing a positive reflection of his team's eighth loss in nine games. Minnesota plays Chicago nine more times this season.
"I knew, coming into this game, that we needed to fight," Santana said. "Tonight, we did a great job from top to bottom."
Joe Nathan pitched the ninth for his 32nd save and extended his scoreless innings streak to 15, striking out the last two batters as the crowd of 33,572 roared.
"Definitely the loudest I've heard it in the Metrodome since I've been here," said Nathan, in his second season with the Twins.
Pablo Ozuna stroked a single off Santana's first pitch and doubled down the left-field line in the third, but that was it until Geoff Blum singled with two outs in the seventh. Ozuna followed with a drive to deep center, but Lew Ford - named the AL's Player of the Week the day before - caught it on the run before he crashed into the wall.
Indians 5, Devil Rays 4
St. Petersburg, Fla. - Coco Crisp hit a two-run triple in a three-run seventh inning, and Cleveland extended its winning streak to six by overcoming a four-run deficit to beat Tampa Bay.
Casey Blake homered for Cleveland, which won its ninth straight road game.
Jake Westbrook (12-13) gave up four runs - all in the first - and 10 hits in 62â3 innings. Bob Wickman, the third Indians reliever, retired Jorge Cantu on a grounder back to the mound with runners on second and third for his 33rd save in 38 opportunities. Damon Hollins had a two-run single for the Devil Rays.
Yankees 5, Blue Jays 4
New York - Felix Escalona's bases-loaded single with two outs in the ninth gave New York a victory over Toronto. Hideki Matsui hit a tying homer in the ninth, and Derek Jeter had two hits in his return to the lineup for the Yankees (69-55), who scored in each of the final four innings to win for the ninth time in 12 games and reach 14 games over .500 for the first time this season.
New York, which didn't lead until the final hit, had been tied for the wild-card lead with Oakland, which lost at Detroit.
Tigers 4, Athletics 1
Detroit - Carlos Pena hit two homers, and Nate Robertson won for the first time in just over a month as Detroit earned its fifth straight victory. The Tigers matched their longest winning streak of the season and improved to 6-1 on their nine-game homestand. The A's, beginning a 10-game road trip, have lost seven of their last eight.
Pena gave the Tigers a 1-0 lead in the fourth with a homer into the bleachers in right-center. Ivan Rodriguez and Magglio Ordonez singled with one out in the sixth, and Pena then drove Dan Haren's 2-2 pitch into the first row of stands in right.
Rangers 6, Mariners 4
Arlington, Texas - Kevin Mench had three hits, including his 21st home run, and rookie Chris Young ended another Texas losing streak with a victory over Seattle. Mark Teixeira hit his 32nd homer, a solo shot in the seventh that was his 99th RBI and gave the Rangers a 5-3 lead.
Angels 7, Orioles 6
Baltimore - Orlando Cabrera had three hits and three RBIs to back a fine pitching performance by Jarrod Washburn, and Los Angeles held on to beat Baltimore. The Angels amassed 12 hits over the first three innings in taking a 5-0 lead. Washburn (7-7) allowed one run, eight hits and one walk in 61â3 innings.
Copyright 2018 The Associated Press. All rights reserved. This material may not be published, broadcast, rewritten or redistributed. We strive to uphold our values for every story published.