Josi Lima didn't scour Kansas University's volleyball record books after arriving on campus as a goal-oriented, wide-eyed freshman in 2002.
"No, because I didn't know how to read," the personable KU senior middle blocker from Sao Paulo, Brazil, said with a smile at a KU Olympic Sports media luncheon.
"I'm not a very big stat person. People tell me what is going on. I really don't like to read about personal stats ... just work with my teammates."
Lima appeared with volleyball coach Ray Bechard, soccer coach Mark Francis, cross country coach Stanley Redwine and selected KU players Tuesday at Hadl Auditorium.
Lima will enter Friday's season-opening match against Alabama (7 p.m., Horejsi Center) ranked sixth in KU history in kills, second in attack percentage, fourth in blocks per game, sixth in aces per game, sixth in solo blocks, ninth in block assists and 10th in total attempts.
In four years, she has improved her ability to compete and communicate.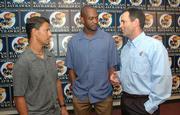 "I don't know 100 percent of English," Lima said. "My dictionary is my best buddy."
She's communicated well enough to make a lot of friends in Lawrence, including sophomore teammate Emily Brown.
"Josi is a great leader, phenomenal player," Brown said. "She is one of the best players to come through Kansas."
In fact, she's the best player eighth-year Jayhawk coach Ray Bechard has tutored on Mount Oread.
"If you look at it statistically, this program took a pretty sharp step in the right direction when she joined us," Bechard said. "Josi is one of our best, if not our best passers.
"She is one of our best if not our best servers. She is our best back-row attacker. She is our best front-row attacker. She is one of our best diggers. I'd say, yes, she is probably the best we've had since I've been here. There might be better in one area. If you put them all together, I don't think one would compete in all those areas."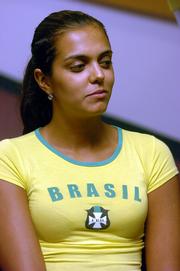 Lima is not 100 percent entering her final season.
"I will have to play with my torn (left) meniscus for the entire season," she said. "At times I want to help at practice. Sometimes all I can do is communicate. It's very frustrating. I see all these young ladies jump. I'm old. I can't jump anymore," the 22-year-old added with a grin.
KU's soccer team will meet Michigan in its season opener at 5 p.m. Friday at Jayhawk Soccer Complex, then play host to Wisconsin at 1 p.m. Sunday.
Caroline Smith enters her senior season as KU's all-time leader in points (100), goals (42), game-winning goals (12) and shots (235).
KU's cross country team will open at the Bob Timmons Invitational on Sept. 3 at Rim Rock Farm. Redwine said the goal of the men's team this season was to qualify as a team for the NCAA championships.
Junior Benson Chesang won the 2004 Big 12 Conference title and placed seventh at the NCAA championships, and sophomore Paul Hefferon is coming off a successful summer in which he placed second in the 5,000 at the Junior Pan Am Championships in Canada.
Copyright 2018 The Lawrence Journal-World. All rights reserved. This material may not be published, broadcast, rewritten or redistributed. We strive to uphold our values for every story published.