They're purple, bulbous and look like something aliens from a B-list science fiction movie might grow in their gardens.
But to Marcy Mauler, they're dinner. And sometimes lunch. And even breakfast.
Mauler and her husband, Al, love eggplant. They roast it in the oven. They cook it in omelets. They turn it into a pizza topping.
On a recent weekend, Mauler hobbled around the Lawrence Farmers Market, picking up ingredients for eggplant parmesan, despite a broken kneecap and hand.
Nothing would keep her from her eggplant.
"We make a pretty wicked eggplant parmesan," she said. "We make it from scratch."
The Maulers are probably in the minority of Kansans when it comes to eating eggplant, however.
With the possible exception of the popular eggplant parmesan, the purple vegetable isn't consumed much in the Midwest - certainly not as much as its close vegetable kin, the tomato, potato and pepper. Eggplant is far more popular in the Middle East and Asia, where it finds its roots.
"I think it's one of those things people are a little afraid of if they've never tried it before," said John Pendleton, co-owner of Pendleton's Country Market. "They don't know how to get started."
Pendleton often gets asked the question, "What can you do with eggplant?" The answer, he said, is almost anything.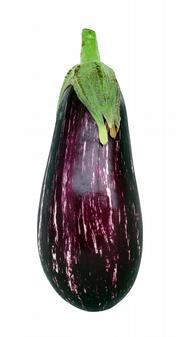 Karen Pendleton, also a co-owner Pendleton's Country Market, said most varieties of eggplant don't have much flavor and tend to take the taste of whatever they're cooked with. The smaller versions tend to have smaller seeds but can be more bitter. To neutralize the bitterness, she said, salt the eggplant for awhile and then rinse it.
Her favorite eggplant recipe is a dip that also includes other vegetables, yogurt, tomato paste and other ingredients.
"I've had people try that dip and say, 'Oh, my God,'" she said. "They never realized eggplant could be like that."
John Pendleton said one of his favorite simple eggplant recipes is rubbing slices with olive oil, adding garlic and grilling it.
Pendleton's grows about 10 varieties of eggplant. In addition to the classic and black beauty - the large, purple varieties commonly found in stores - the farm has skinnier Asian eggplant and brightly colored neon eggplant, among others.
They're somewhat difficult to grow, John Pendleton said, because they take lots of water and can be susceptible to insects. This year's crop is running late because of the hot, dry weather.
Grasshoppers have claimed most of the eggplant crop at Sage Moon Naturals, another Lawrence farm.
But even in slow years, owners Mark Van Order and Michael Bates have found a way to enjoy eggplant: by canning it.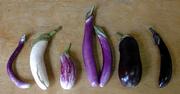 "I won't say it's the same consistency (after canning), but it's close," Van Order said. "It holds shape wonderfully."
Though many who are new to eggplant might think the different varieties taste the same, he said some eggplant connoisseurs can taste the difference.
"There are subtle differences," he said. "Some of the Italian eggplants tend to be a little sweeter, and the little Asians tend to have a pretty strong flavor, and you really have to salt them. It's a matter of what you're used to and what you've grown up with."
Van Order's list of eggplant recipes includes pizzas, bruschetta, cracker dip, pasta, camponata (a Sicilian dish) and musaka, a type of eggplant casserole.
"It's incredibly versatile," he said.
Eggplant Parmigiana
Olive oil
1 garlic clove, minced
1 large onion, chopped
1 quart bottled or canned tomatoes
2 teaspoons sugar
1/2 teaspoon oregano leaves
1/2 teaspoon salt
1 cup dried bread crumbs
2 eggs
2 tablespoons water
1 large eggplant, peeled and cut into 1/2-inch slices
1/2 cup grated Parmesan cheese
8 ounces mozzarella or Monterey Jack cheese, grated or cut into 1/4-inch slices
In 9-inch skillet over medium heat, in 2 tablespoons oil, cook garlic and onion until tender, then add next five ingredients. Reduce heat, cover and cook for 30 minutes. Place bread crumbs on waxed paper. Beat eggs and water in a small dish. Dip the eggplant slices in egg and then in bread crumbs. Repeat to coat slices twice. Grease 9-by-13-inch baking dish. In 12-inch skillet over medium heat, in enough oil to cover the bottom of the pan, cook a few eggplant slices at a time until golden brown. Add oil as needed. Preheat oven to 350 degrees. Arrange half of the eggplant slices in baking dish. Cover with half of the tomato mixture. Sprinkle with half the Parmesan and mozzarella or Monterey Jack cheeses. Repeat. Bake 25 minutes.
Source: www.epicurian.com
Eggplant Mushroom Lasagna
2 tablespoons olive oil or spray
1 medium onion, chopped
2 cloves garlic, minced
1 large eggplant, washed and cut into 3/4-inch cubes
2 cups sliced mushrooms
1 16-ounce can of tomato sauce
1 16-ounce can of tomatoes, with liquid
1 teaspoon dry oregano
1 teaspoon basil
1/2 teaspoon freshly-ground black pepper
1/8 teaspoon crushed red pepper flakes
2 cups shredded mozzarella
1 cup low-fat cottage cheese
1/4 cup chopped parsley
8 ounce lasagna noodles
1/2 cup grated Parmesan cheese
In large saucepan, saute onion and garlic in the olive oil until onion is softened. Add the next ingredients through pepper flakes. Cover and cook over medium heat for 15 minutes. Uncover and cook 25 minutes more. In a bowl, combine cottage cheese, mozzarella and parsley. Cook, rinse and drain lasagna noodles. Preheat oven to 350 degree. Lightly coat 9-by-13-inch pan with non-stick spray. Layer noodles, cheese mixture, Parmesan and eggplant sauce. Repeat. Bake uncovered for 30 minutes or until heated through.
Source: www.epicurian.com
Eggplant Dip
2 medium eggplants, cubed
Salt
Juice from one lemon
1/2 cup olive oil
2 cloves garlic, minced
1 onion, diced
1 red bell pepper, diced
1 cup black olives, diced
1 hot pepper, diced
1 cup water
2 tablespoons tomato paste
8 ounces plain yogurt
Freshly ground pepper
Fresh parsley
Dash sugar
Wash eggplants, peel and cut into small cubes and drip with lemon juice. Heat olive oil and add garlic, eggplants, onion, salt, pepper, olives and hot pepper. Cover pot, let simmer until cooked throughout. Add water and tomato paste and bring to a boil. Let cool and put everything in a blender. Let mixture cool completely. Add yogurt and spices, chopped parsley, sugar and lemon juice. Serve with bread cubes or vegetables.
Source: Pendleton's Country Market
Roasted Eggplant and Mozzarella
1 large eggplant
Olive oil
Salt
Pepper
Garlic, finely chopped
1/4 pound mozzarella cheese
Pizza dough
Marjoram
Slice eggplant into 1/8- to 1/4-inch slices. Brush with olive oil; season with salt and pepper. Place in a single layer on a roasting pan and bake in a hot oven until nicely browned. Roll the pizza dough and sprinkle it with garlic and a light layer of mozzarella cheese. Arrange the eggplant slices on the cheese, sprinkle more cheese over the eggplant and bake the pizza. Garnish it from the oven with chopped fresh marjoram.
Source: Pendleton's Country Market
Marinated Eggplant with Mint
1 1/2 pounds Italian or white eggplants, trimmed and cut lengthwise into 1/8-inch thick slices
1 1/4 teaspoons salt
5 tablespoons red wine vinegar
1 teaspoon sugar
1 clove garlic, thinly sliced
1/2 cup finely chopped fresh mint
2/3 cup extra-virgin olive oil
Toss eggplant with 1 teaspoon salt in a colander set over a bowl, then let drain 30 minutes. Rinse eggplant, then drain, pressing gently on eggplant to extract any excess liquid. Pat dry. Whisk together vinegar, sugar and remaining salt in a small bowl until sugar is dissolved. Stir in garlic and mint. Heat oil in a 12-inch nonstick skillet over moderately high heat until hot but not smoking, then fry eggplant, about eight slices at a time, until cooked through and pale golden, about 1 minute at a time. Transfer eggplant to paper towels to drain, then transfer to a large shallow dish, overlapping slices slightly. Spoon vinegar-mint mixture over each batch. Marinate eggplant, covered and chilled, at least eight hours. Serve slices on crusty Italian bread spread with a mild, earthy cheese such as fresh goat cheese.
Source: Pendleton's Country Market
Copyright 2018 The Lawrence Journal-World. All rights reserved. This material may not be published, broadcast, rewritten or redistributed. We strive to uphold our values for every story published.