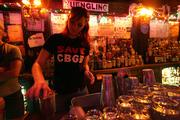 New York — Hilly Kristal opened CBGB's in December 1973, envisioning a home on the Bowery for country music.
And then the punks took over.
The Ramones. Blondie. Talking Heads. Television.
They all launched their careers on the cramped stage at Kristal's low-maintenance club, which became the mid-1970s epicenter for a musical revolution and still rocks on three decades later.
But it may be time for the last (slam) dance at the storefront bar with its familiar white awning. The club's lease expires on Aug. 31; a longstanding rent dispute could persuade the landlord, the Bowery Residents' Committee, to shut down the venerable birthplace of punk and find a new tenant.
Negotiations were ongoing over the new lease, with high-profile rockers Little Steven Van Zandt and Blondie's Debbie Harry coming to the aid of Kristal and the club. And although CBGB's won a recent court decision regarding its back rent, there's no guarantee that a new deal will be reached.
For now, the club's walls remain covered with band stickers and posters testifying to CBGB's long musical legacy. And even if it goes out of business, the club with its capacity of 350 people provided years of memorable moments.
On the other hand, as the late New York Dolls guitarist Johnny Thunders once observed:
"You can't put your arms around a memory."
Copyright 2018 The Associated Press. All rights reserved. This material may not be published, broadcast, rewritten or redistributed. We strive to uphold our values for every story published.