Here's a rule you probably didn't learn in driver's education class: You can turn left in front of a traffic circle.
City commissioners Tuesday night unanimously approved a new ordinance designed to clear up any confusion about whether drivers must go to the right of the center island and "make the loop" before turning left at traffic circles.
The new ordinance says drivers aren't required to "make the loop" at traffic circles, but are required to do so at roundabouts. That left city commissioners with one question: How the heck do you tell the difference?
Staff members said it shouldn't be that hard. Roundabouts generally are larger than traffic circles and located on busier streets. Traffic circles are more likely to be found in neighborhood areas. But the biggest tell-tale sign is that roundabouts have medians at each of their four entrances.
"You're really not going to be able to turn left at a roundabout unless you drive over the median," said Chuck Soules, the city's director of public works.
Commissioners found themselves diving into arcane traffic laws because members of the Lawrence Police Department and the city's traffic engineering division earlier this year disagreed on what was legal when it came to left-hand turns at traffic circles.
Police officers had begun to issue warnings to drivers who were turning left in front of the circles. But David Woosley, the city's traffic engineer, said the turning movement couldn't be made illegal because the traffic circles were small enough that some delivery trucks and other large vehicles wouldn't be able to turn left any other way.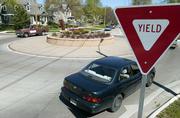 "For some vehicles, it would be impossible to turn left at these circles," Woosley said.
The ordinance does require left-hand turning motorists to ensure that no other vehicles are approaching the traffic circle when they make their turns.
Commissioners approved the change in the city's traffic code without much comment.
"I guess it comes down to that if it is safe to make a left-hand turn, you are not going to get a ticket if you turn in front of whatever we're calling that thing," City Commissioner Mike Amyx said.
Commissioners also unanimously approved two other policies related to traffic-calming devices. They were:
¢ Guidelines for determining when a traffic circle, speed hump or other similar device should be placed on a city street. The policy sets out a number of factors, including measurements of vehicle speeds, traffic volumes and the amount of cut-through traffic in the neighborhood. The policy also creates a ranking system to determine the order that approved projects should be constructed. The ranking system looks at factors such as whether the area is in a school zone, has sidewalks or has been the site of numerous crashes.
¢ A policy that sets a $2,000, one-time fee that developers must pay to the city to cover landscaping and maintenance costs of traffic circles.
Copyright 2018 The Lawrence Journal-World. All rights reserved. This material may not be published, broadcast, rewritten or redistributed. We strive to uphold our values for every story published.