Donnelly, Idaho — President Bush took on the California mother who has been defiantly protesting outside his Texas home, saying Tuesday that Cindy Sheehan doesn't represent the views of most military families and that fulfilling demands like hers for withdrawal from Iraq would weaken the United States.
Bush said he understood the anguish of the woman whose son was killed in Iraq last year. But he said he disagreed with her assertion that U.S. troops should be brought home before more die in a "senseless war."
"I think those who advocate immediate withdrawal from not only Iraq but the Middle East are advocating a policy that would weaken the United States," Bush said.
The president said U.S. troops in Iraq are keeping Americans safe and that Iraqis are making progress toward democracy. He urged patience as officials in Baghdad struggle to complete a constitution.
"The fact that they're even writing a constitution is vastly different from living under the iron hand of a dictator," Bush said.
Bush met Sheehan last year at a similar series of meetings with families of the war dead. But Sheehan says there have been developments since then and she has more she wants to say to Bush.
Her vigil in Crawford, Texas, has given momentum to the peace movement, and even some Republicans have said Bush should meet with her. She flew to Los Angeles last week after her 74-year-old mother had a stroke, but she is expected to return to Texas in a few days.
"Well, I did meet with Cindy Sheehan," Bush said Tuesday. "I strongly support her right to protest. There's a lot of people protesting. And there's a lot of points of view about the Iraq war."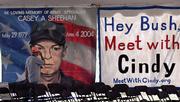 He added: "She expressed her opinion. I disagree with it."
At a Pentagon briefing, Defense Secretary Donald H. Rumsfeld was asked about Sheehan's vigil and what he would say to her if he had the chance. "While it has to be a heart-wrenching thing for each of the families involved, our task is to try to help them and the country understand the importance of the work that's being done," he said.
Bush spoke once before about Sheehan, during a foreign policy summit at his ranch on Aug. 11. He said then, too, that he sympathized with her but disagreed with her call to bring the troops home immediately.
He said Tuesday, "She doesn't represent the view of a lot of the families I have met with."
Copyright 2018 The Associated Press. All rights reserved. This material may not be published, broadcast, rewritten or redistributed. We strive to uphold our values for every story published.