Kansas City, Mo. — Winning without his good stuff is what makes David Wells feel like a good pitcher.
The veteran left-hander's head was stuffed and he was feeling the effects of flu-like symptoms, but he still pitched five shutout innings Tuesday night to lead the Boston Red Sox to a 5-2 victory over the Kansas City Royals.
Of course, he was facing a team he hasn't lost to since 1993, but one that had won two straight after breaking a club-record 19-game losing streak.
"I felt pretty fatigued," Wells said. "After being sick the last couple of outings, I still have it. It kind of hit me all at once. I just went out there and made the best of it and got out of a few jams."
Wells (10-6) didn't even raise much of a protest when manager Terry Francona came and got him after five innings and 91 pitches. He gave up five hits and struck out five. He walked two for just the third time this year.
"The good thing about it, I wasn't fighting it. I wasn't trying to aim the ball," he said. "When you do that it's going to go all over the place."
Edgar Renteria had three hits, and Jason Varitek hit a towering home run for Boston, which handed the Royals their team-record ninth straight home loss.
Though wobbly, Wells beat the Royals for the 11th straight time and raised his lifetime record against them to 16-3. The Red Sox have beaten Kansas City four straight times this year and are assured of winning the season series for the fifth straight year.
"I still feel like I'm under water when I talk. The right side of my head is clogged up," Wells said. "Physically, I feel fine. My body's not drained, so I'm able to keep food down and all that."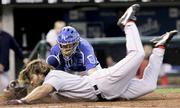 Jeremi Gonzalez pitched three hitless innings, and Mike Timlin worked the ninth, giving up two runs on Donnie Murphy's bases-loaded single.
Wells worked out of jams in the first and second, but the Royals hurt themselves with baserunning blunders.
"We let him off the hook quite a bit," Royals manager Buddy Bell said. "We did some things tonight that made me wonder whether we had spring training or not. Baserunning cost us three runs."
Emil Brown broke too early from third on one play. On another, Terrence Long was out at second trying to stretch a single.
"I can't wait for spring training to go over this elementary stuff," said Bell, who took over for the fired Tony Pena on May 31.
Zack Greinke (3-15) became the first major-league pitcher with 15 losses.
In his first appearance against the Red Sox, Greinke gave up five runs and nine hits, with two walks and three strikeouts. His earned-run average climbed to 6.04.
Copyright 2017 The Associated Press. All rights reserved. This material may not be published, broadcast, rewritten or redistributed. We strive to uphold our values for every story published.