Margaret Pendleton, a Lawrence High senior, has a family history with the Meadowlark 4-H Club.
On Sunday afternoon at the Douglas County Fairgrounds, about 100 past and present members shared their 4-H memories and history for the club's 75th anniversary.
"It's pretty neat because my dad was a president years ago," Pendleton said of her father, John. "He was here when we had the 50th anniversary."
While Meadowlark is one of 12 Douglas County 4-H clubs, Pendleton, the current president, said her group right now has more than 20 members. The number of former members who visited on Sunday, along with the many pictures and former projects, helped showcase the club's tradition, she said.
The group is split between rural and urban members, Pendleton said.
"It's not really about cows and plows," Pendleton said. "We have self-determined projects. We can do all types of things."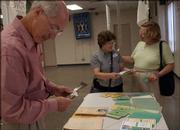 A current citizen leader, or adult adviser for the group, Dorothy Schaake, has been a member since 1966. Schaake said Sunday's reunion was a good lesson for past and present members on the value of 4-H.
"It seems to me like it's still about people," Schaake said. "You don't remember the type of ribbon you got, but you remember the people you met."
Schaake said one of her earliest 4-H memories was when one of her leaders taught her how to sew a pattern into a skirt.
"I saw her years later, and she remembered the look on my face when it worked," Schaake said.
Karen Pendleton, another Meadowlark leader and Margaret's mother, said she was glad the event gave the younger members a chance to meet former members.
"Now they can say, 'Hey, this is what I can get out of it because they did,'" she said.
Copyright 2017 The Lawrence Journal-World. All rights reserved. This material may not be published, broadcast, rewritten or redistributed. We strive to uphold our values for every story published.