Here's why Southern California is No. 1 in the Associated Press preseason football poll:
Every player who scored a touchdown in the Trojans' 55-19 victory over Oklahoma in last season's Orange Bowl still is playing for USC. And so is Heisman Trophy winner Matt Leinart, who threw five TD passes.
Leinart, Reggie Bush and the rest of Pete Carroll's crew provided a scary glimpse of what was to come in 2005 when they wrapped up their second straight national title on that warm January night in Miami.
This year's goal is three in a row, something that's never been done.
"It's always good to be on top, but at the same time we're focused and coach Carroll always reminds us, 'Don't worry about who's No. 1 or No. 2. Just stay focused,'" said sophomore receiver Dwayne Jarrett, who finished off a big freshman year with 115 yards and a touchdown in the Orange Bowl.
USC (1,619 points) received 60 out of a possible 65 first-place votes in the media poll released Saturday, grabbing the top spot in the preseason for the fifth time in school history.
"My statement on that is what I always say: It's a reflection of what's happened in the past and the respect that people show our program, so in that sense it's a really nice recognition," Carroll said, "but it doesn't amount to much until we do something about it and prove that we're worthy of that. And it's a long ways before that."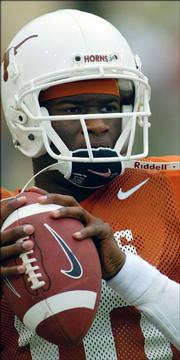 No. 2 Texas (1,500 points), coming off an 11-1 season and a Rose Bowl victory, received four first-place votes. Tennessee is No. 3 and Michigan and LSU round out the top five. No. 12 Louisville received the other first-place vote.
Joe Giglio of The News & Observer of Raleigh, N.C., voted Louisville No. 1 after examining the schedules for all BCS conference teams. The Cardinals moved to the Big East this season.
"Louisville was the only one that I came up with as going undefeated," he said.
Ohio State is No. 6, one point ahead of Oklahoma and star tailback Adrian Peterson. The Sooners have lost the last two Bowl Championship Series title games, and have to replace 11 NFL draft picks and 2003 Heisman winner Jason White this season.
Defending Atlantic Coast Conference champion Virginia Tech is No. 8. The Hokies have a new Vick at quarterback, Mike's little brother, Marcus.
Miami is No. 9 and No. 10 Florida, with new coach Urban Meyer, gives the Southeastern Conference three teams in the top 10.
"It says we have a lot of experience. We have a returning quarterback and some returning players on defense. It doesn't say anything about the coaches," said Meyer, who guided Utah to an undefeated record last season.
No. 11 Iowa starts the second 10, followed by Louisville, Georgia, Florida State and Purdue.
Auburn, which finished last season 13-0 and No. 2 in the country after being left out of the BCS title game, is No. 16. The Tigers must replace three first-round draft picks from their backfield alone in running backs Carnell Williams and Ronnie Brown and quarterback Jason Campbell.
Missing from the poll is Utah, last year's BCS buster from the Mountain West Conference.
The Utes went 12-0 and finished fourth in the final AP rankings. But Utah lost Meyer to the Gators and quarterback Alex Smith left after his junior year to become the first overall pick in the NFL draft by the San Francisco 49ers.
The last team to finish that high and go unranked in the following preseason poll was Arizona State, which was No. 4 to end the 1996 season.
Copyright 2018 The Associated Press. All rights reserved. This material may not be published, broadcast, rewritten or redistributed. We strive to uphold our values for every story published.