St. Louis — Susan Darcy had a good friend who had just turned 50 and did one. And then all her friends in her running and walking group did it, too.
She and her husband, Mike, were running only about 10 miles a week, but they figured if others could do one, they could do it too.
So, they joined the increasing number of people running marathons as they finished the Cincinnati Flying Pig Marathon.
"I think it was just to prove to myself that I could do it," said Darcy, 51, of St. Peters, Mo.
The grueling 26.2-mile race used to be for the fittest of the fit, the seasoned athletes with mega miles of running under their belts.
But now, people of all sizes, ages and skills are taking on the challenge.
"Everybody and their grandma wants to run a marathon," said Ryan Llamppa with Running USA, a professional association devoted to improving the status of road racing and long-distance running.
Statistics compiled by the association show that 25,000 people ran a marathon in 1976. Last year, nearly 425,000 went the distance. And the four biggest marathons this fall - including the Chicago Marathon - are sold out.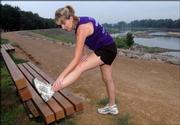 The phenomenon includes a surge of women. Twenty-five years ago, only 10 percent of marathon finishers were women. Now 40 percent cross the line.
Many take on the challenge of running a marathon for health benefits. But some doctors are concerned that some runners - especially novices and those older than 40 - are unprepared for the toll a marathon takes on the body.
Talk show host Oprah Winfrey was one of the first to make marathoning an attraction for women. She completed a marathon in 1994 when she turned 40 after years of battling her weight. No woman could say she was too busy or too big or too old any more.
Running for charity
Numbers continue to grow as marathon-training programs that raise money for charities have become wildly popular. The largest is Team in Training, which will train almost 30,000 people to run or walk a marathon this year and raise nearly $85 million for The Leukemia and Lymphoma Society.
The training programs are geared with beginners in mind. They offer a step-by-step training program, a coach and informational clinics. Their mantra is that anyone can be prepared to run or walk a marathon in four to five months, and they promise a fun and rewarding experience. About 65 percent of Team in Training participants are women, and nearly 85 percent have never run a marathon. Many have run hardly at all.
Women are drawn to the social aspect of the training programs and the contribution to a worthy cause, organizers say.
Barb Cox, 32, of St. Peters, said she signed up for Team in Training in part because she couldn't get motivated to go to the gym. Mainly, she said, she wanted to help others.
Training program offers leg up
The Leukemia & Lymphoma Society's Team In Training program helps prepare participants for a half marathon, marathon or 100-mile bicycling event. The four- to five-month program provides a certified coach. While training, participants raise money to benefit the society. About 75 percent of the funds help support investment in blood cancer research and services that enhance the lives of patients and their families, and about 25 percent go toward the program's expenses. The Mid-America Chapter, which includes Lawrence, has scheduled a Team in Training informational meeting from 6 p.m. to 8 p.m. Monday at the Topeka Public Library, 1515 SW 10th Ave., Topeka. The chapter's pre-party begins at 6 p.m. Tuesday at St. Joseph Medical Center's Alex George Auditorium in Kansas City, Mo. It is for anyone interested in training for 2005-2006 events. For more information about the program or meetings, call Emily Clark at (913) 262-1515 or visit the Web site www.teamintraining.org.
"I was at a point in my life where I felt I needed to give back," she said. "I thought this was a great way to do it."
Diverse, smiling and triumphant people are portrayed at the Team in Training Web site, pamphlets and informational video.
Participants must raise $3,000 to $4,000 and get their airfare and accommodations paid for to run marathons in vacation destinations like Phoenix, Dublin, Hawaii and Walt Disney World. There's a pre- and post-party.
Lawrence resident Shannon Hodges, 26, said she was able to complete the San Diego Marathon in 2002 and the San Francisco Marathon in 2004 by participating in Team In Training through the Mid-America chapter.
Hodges said she used the program during her first marathon because it provided coaching and group runs. She returned to the program for her second marathon because she knew it was for a "worthy cause." Hodges said she raised a total of $5,600.
She said her coach, Karl Kiltner, of Kansas City, Mo., was helpful during the training process. He provided her with a training schedule and helped her deal with injuries.
Risk factors
Doctors stress that it's a serious endeavor that carries a high risk of overuse injury.
Dr. Scott Van Nest said he advises some - because of their body mechanics and alignment - to forego training for a marathon. He is a physical therapist at the Sports Medicine and Training Center in Webster Groves, Mo., and has worked with runners about 18 years.
Everyone, he said, should be evaluated by a doctor to forecast possible problems and devise a plan to help better tolerate the stress.
"Each particular person is going to have a weak area," Van Nest said. He develops specific strength and flexibility programs, a proper timeline for progressing mileage and might recommend orthotics.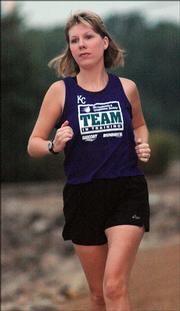 Marathon-training programs are good for camaraderie and motivation, but he warns: "You are getting a generic approach to prepare for a race. That may work for some people but not for others."
Doctors say any nagging pain is a sign a runner might be overdoing it. Rest or medical attention might be required, or both. Trying to run through the pain will result in a more serious injury that takes longer to heal.
Dr. Mike Cannon, a family physician with qualification in sports medicine at SLU Care Des Peres, said he sees many patients suffering ailments from marathon training. And he offers a warning for those considering the challenge.
"I tell patients all the time who have this in their plan, that training for and running a marathon is not a healthy thing," Cannon said. "It does put them at risk for injury."
Health benefits come from regular exercise that can be maintained through a lifetime, he said. Someone training for a marathon has a 40 percent to 60 percent chance of getting a musculoskeletal injury like a stress fracture, knee pain or foot pain.
The Institute of Medicine recommends for adults an hour of cumulative exercise a day at moderate intensity "to maintain cardiovascular health at a maximal level." For high-intensity exercise, such as jogging, only 20 to 30 minutes a day will do.
Mark Reinking, who teaches physical therapy at St. Louis University, agrees that longer is not necessarily better.
"What's curious to me is that there seems to be a phenomenon occurring where folks jump into running as a fitness experience and almost immediately set their sights on a marathon," said Reinking, who teaches physical therapy at St. Louis University.
Not many want to start with a 5-kilometer or 10-kilometer run, or even a half-marathon, he said. Or even try their hand at getting faster at those events.
Painful, but rewarding
Shannon Bengston, 23, ran the San Diego Rock 'n' Roll Marathon in June and came away with a stress fracture in her foot.
Among a group of friends who trained with Bengston was Amber Woods, 23, of St. Louis. She got stress fractures in both feet after completing the marathon in 5 hours and 17 minutes.
While training, Bengston said, she also experienced flulike symptoms after her long weekend runs.
Weakened immune systems and chronic fatigue are other risks of running long distances, Reinking warned.
But despite their injuries, Bengston and Woods are glad they did it. Bengston raised more than $4,500 through Team in Training. "It was a great accomplishment," Bengston said. "I've never done anything like that where you're pushing your body to its limit."
Nearly everyone who has run the marathon describes an incredible feeling of pride and elation that far outweighs any pain. For some, it's been a life-changing event that forever improved their health habits or self-confidence, bringing them to tears as they cross the line.
For others like Woods - who hobbled to the finish line and couldn't run for six weeks - it's the cachet.
"It's so cool to say I've done a marathon," she said.
- Copy editor Karrey Britt contributed information to this story.
Copyright 2018 The Lawrence Journal-World. All rights reserved. This material may not be published, broadcast, rewritten or redistributed. We strive to uphold our values for every story published.