Aqaba, Jordan — Attackers firing Katyusha rockets narrowly missed a U.S. amphibious assault ship docked at this Red Sea resort Friday, but killed a Jordanian soldier in the most serious strike at the Navy since the USS Cole bombing nearly five years ago.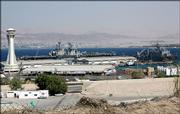 Two more rockets were shot toward nearby Israel without causing serious damage.
Jordanian security forces hunted for at least six Egyptian, Syrian and Iraqi suspects, and an al-Qaida-linked group that previously claimed responsibility for terror bombings in three Egyptian resorts said it staged the attack here.
The string of attacks over 10 months has raised fears Islamic extremists are opening a new arena of combat in Egypt's Sinai Peninsula and the Gulf of Aqaba, an area bordered by Israel, Egypt and Jordan that is known for carefree tourist resorts and Arab-Israeli peace talks.
The Abdullah Azzam Brigades, a militant group that claimed to be behind bombings which killed at least 64 people at Sharm el-Sheik in July and 34 people at two other Egyptian resorts last October, posted a statement on the Internet saying its fighters fired the rockets Friday.
One rocket sailed over the bow of the USS Ashland about 8:44 a.m., Lt. Cmdr. Charlie Brown, a spokesman for the U.S. 5th Fleet in Bahrain, told The Associated Press.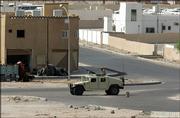 The missile hit a nearby Jordanian military warehouse that U.S. forces use to store goods bound for Iraq, Jordanian officials said. The blast killed one Jordanian soldier and wounded another, the state Petra news agency reported. No Americans were injured.
Brown said the Ashland had docked on Aug. 13 with the helicopter carrier USS Kearsarge at Aqaba's port, south of the city, for joint exercises with Jordan's military. Both vessels left after the attack as a precaution, he said.
The vessels, which are based in Norfolk, Va., carried elements of the 26th Marine Expeditionary Unit from Camp Lejeune, N.C. It was unknown how many Marines and sailors were on board, but the Ashland can carry up to 400 sailors and 500 Marines and the Kearsarge 1,100 crew and 1,900 Marines. The Kearsarge, command ship for an expeditionary strike group, can also carry assault hovercraft and Harrier jets.
It was the most serious attack involving a Navy vessel since October 2000, when al-Qaida-linked militants rammed a boat loaded with explosives into the destroyer Cole off Yemen, killing 17 sailors and severely damaging the vessel.
Copyright 2018 The Associated Press. All rights reserved. This material may not be published, broadcast, rewritten or redistributed. We strive to uphold our values for every story published.