Douglas County home sales surged in July, compared with a year earlier, according to a new report.
The Douglas County Appraiser's Office reported this week that 322 single-family homes changed ownership last month, up 15 percent from 279 in July 2004.
It was the highest monthly total ever recorded, as buyers closed their purchases in time for the school year to begin in August - and to lock in mortgage interest rates before their expected rise through the rest of the year.
Jim Moore, a county appraiser, said that sales of all properties in the county - including condos, apartments, agricultural land, commercial lots and others - had a record month in July.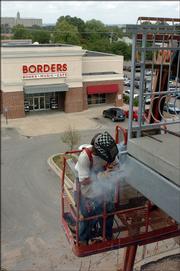 "I don't know that it's a surprise," said Moore, who had all the paperwork across his desk in the basement of the Douglas County Courthouse. "Ten years ago, I would have said we were at the top of the market. But I also would have said I didn't think I'd ever see gasoline that would cost $2.65 a gallon, either."
Even with the increase, sales of single-family homes are still down for the year. Through July, there have been 1,327 homes sold in the county, down 2.7 percent from the same period in 2004.
Also included in the appraiser's report for July:
¢ Sales in Lawrence also jumped. There were 255 homes sold during the month in town, up 10 percent from 232 a year earlier. The average price also climbed: to $192,778, also up 10 percent from a year earlier. The totals do not include North Lawrence, which the appraiser's office tracks as a separate market.
The 1,045 homes sold in the city through July is off 5.3 percent from the same seven months a year ago.
¢ Condominium sales averaged $82,700 on seven transactions, compared with an average of $81,984 on 10 sales a year earlier. But the latest totals didn't include any sales from Hobbs Taylor Lofts, where 26 of 32 loft condos already are under contract - at prices ranging from about $200,000 to double-condos approaching $1 million.
The first condo sale is scheduled to close by the end of August, with others scheduled in the coming months, said Betty Morris, a Realtor for Stephens Real Estate.
"The market has been outstanding," she said.
¢ Multifamily sales - including duplexes, triplexes and fourplexes and homes converted into apartments - climbed in July, both in number and price. There were 16 multifamily sales averaging $276,725, compared with six sales averaging $139,342 a year earlier.
Home Prices
Average prices paid for single-family homes in July, and change from a year earlier, in area communities, according to the Douglas County Appraiser's Office: ¢ Lawrence: $192,778, up 10.3 percent. ¢ North Lawrence: $128,798, up 10.2 percent. ¢ Baldwin: $248,635, up 71.9 percent (includes one sale for nearly $500,000). ¢ Eudora: $165,526, up 11.5 percent. ¢ Rural: $259,152, down 5.6 percent. ¢ Total: $192,740, up 11 percent.
Even though sales of single-family homes has lagged behind last year's pace, the increase in closings last month may prove to be an indication of better things to come for the real estate market, said Lisa Ramler, president of the Lawrence Board of Realtors.
Even homes listed for sale above $200,000 - listings that have been especially slow moving in recent months - are starting to move, she said.
"It seems that the fall market has started off fairly strong," Ramler said. "We're seeing people in all price ranges, not just the low ones."
Copyright 2018 The Lawrence Journal-World. All rights reserved. This material may not be published, broadcast, rewritten or redistributed. We strive to uphold our values for every story published.