Neve Dekalim, Gaza Strip — Israel's troops were trained before the Gaza pullout. How to handle verbal abuse. How to be tough yet sensitive to the sadness and fury of Jewish settlers being yanked from their homes - from land they consider their biblical right.
But some soldiers weren't ready. They broke down sobbing, sometimes in each others arms, when settlers likened them to Nazis or thrust young children in their faces.
Despite isolated violence, the eviction of Gaza's die-hard settlers and their nationalist supporters Wednesday was swifter and smoother than anyone anticipated.
There was anguish, anger and tears. Yet there also were moments of tenderness between settlers and Israeli forces, reflecting intense and mixed emotions over Prime Minister Ariel Sharon's plan to cede Gaza to the Palestinians, ending 38 years of Israeli occupation.
In Neve Dekalim, the strip's biggest settlement and the center of resistance, soldiers hauled out two resisting men from the Ohayon family's house by their arms and legs. Another soldier gently carried out a toddler, wiping tears from the clinging boy's cheeks.
"You should be ashamed of yourselves," a neighbor shouted.
"Oh, merciful God," cried one of the men being carried out, wearing an orange Star of David on his shirt - orange, the color of the pullout protest movement, and the star, a throwback to the symbol Nazis required Jews during the Holocaust.
"We were trained for this, but simulation can't prepare you for this," one soldier said before she was sent to evict a family.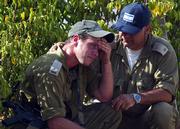 Minutes after the operation began, she was sitting on a curbside, weeping, comforted by a fellow soldier.
Some 14,000 unarmed Israeli soldiers and police entered six settlements throughout Wednesday, forcibly evacuating residents who refused to leave voluntarily. According to the army, 1,842 people were evacuated Wednesday. Of 1,600 families in Gaza's 21 settlements, only 600 remained by the end of the day.
"It's impossible to watch this ... without tears in the eyes," Sharon said, but he insisted the pullout would make Israel safer.
In the West Bank, a settler killed four Palestinian laborers in a shooting rampage, which Sharon denounced as a twisted act of "Jewish terror" designed to stop the historic pullout.
Palestinian militants said they would refrain from retaliating for the shooting. But a mortar shell fell near Israeli soldiers in Gaza, without causing casualties, and Palestinian youngsters threw stones at an Israeli tank outside Neve Dekalim, Gaza's largest Jewish settlement. The tank crew responded with tear gas and fired shells into the sand.
Elsewhere, the day was filled with ironic twists and heartrending scenes.
Soldiers joined anti-withdrawal protesters in prayer before evicting them. An elderly rabbi hugged a Torah scroll as he was escorted from a synagogue. A young man read from his prayer book as soldiers carried him to a bus. Teenagers burned tires in streets in last acts of defiance.
By evening, five of the six settlements that troops entered in the morning were cleared, with resisters remaining only in Neve Dekalim - for months the epicenter of resistance. Morag, Bedolah, Ganei Tal, Tel Katifa and Kerem Atzmona were deserted.
Copyright 2018 The Associated Press. All rights reserved. This material may not be published, broadcast, rewritten or redistributed. We strive to uphold our values for every story published.