The season's second Nextel Cup race at Michigan International Speedway completes a nine-week spin cycle that has tumbled the series standings dramatically.
On June 19, Tony Stewart was one point above 11th place in the standings and Kevin Harvick was ahead of Stewart, Rusty Wallace and Kurt Busch.
Two months later, Stewart is on top of the standings and pulling away. Wallace has racked up more points than anybody other than Stewart in that stretch to all but lock up a spot in the Chase for the Nextel Cup with just four races left before the cutoff. Harvick, meanwhile, finds himself 70 points out of the top 10 and needing to pass four people in four races to make the Chase.
Stewart's incredible surge over the past two months is clearly the sport's biggest story since the last race at Michigan, the site for Sunday's GFS Marketplace 400.
Since finishing second to Greg Biffle on June 19, Stewart has won five of seven races. He'll come back to Michigan this week looking for a third straight win, having tied Biffle for the most wins this season with his triumph Sunday at Watkins Glen (N.Y.) International.
Stewart has scored 1,432 points in the past eight races, only 89 fewer than the maximum possible. That's 485 more points over that span than Jimmie Johnson, who led Stewart by 380 points going into the first Michigan race but now trails by 105.
But the margin between drivers at or near the top of the standings will mean nothing after four more races. Following the 26th race at Richmond, the leader's total will reset to 5,050 points and he will go into the 10-race Chase with only a five-point lead over second, with the rest of those running for the title in five-point increments behind that.
"You have to keep your eye on the ball," said Johnson, who at one point last year had a big lead in the standings before slipping to second behind teammate Jeff Gordon at the Chase cutoff. "You always have to try to make the most out of a bad day. You've got to collect points regardless of the point system."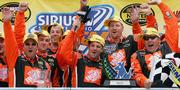 Johnson faltered early in the Chase in 2004, then went on a hot streak similar to the one Stewart is enjoying this year by winning four races in a five-race stretch. His rally fell short, however, and Kurt Busch won the championship by eight points.
"Last year, I thought at times I had a different format or mindset," Johnson said. "But in the end it still added up to gaining points. In a 10-race schedule, you can look at it as having to be more consistent or you can look at it and say you've got to win races.
"Last year, we won a lot of races but came up eight points short. Kurt (Busch) had a solid 10 races and ended up being the champion. So I think there are some things that are different, but at the end of the day you've got to get points."
It's especially critical, of course, for those drivers who're in the tight battle near the bottom of the top 10 to collect points.
Going into the weekend, only nine points separate Jamie McMurray, Carl Edwards, Elliott Sadler and Dale Jarrett who're now in the ninth through 12th spots. Jeff Gordon is only 67 points out of 10th and Kevin Harvick is just three points behind Gordon.
Copyright 2018 The Lawrence Journal-World. All rights reserved. This material may not be published, broadcast, rewritten or redistributed. We strive to uphold our values for every story published.