Kansas University football coach Mark Mangino racked his brain Wednesday during the last session of two-a-days, then concluded to reporters that not one of KU's practices had been poor.
Batting 1.000 isn't common on a team of 100-plus players, but Mangino has an explanation.
"This is how good football teams are supposed to practice," he said.
Judging by several comments made this summer, Mangino is feeling good about his squad's chances. But personnel issues hover over the team with two-a-days now done, classes starting today and the season opener against Florida Atlantic just more than two weeks away.
The offensive line is an obvious puzzle, as different players again worked out with the first team during the morning session Wednesday. Part of that was because the grandfather of Cesar and Jose Rodriguez died recently, and the two weren't expected to rejoin the team until tonight. But the rotation at several positions is unsettled.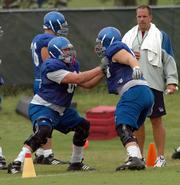 On Wednesday, Scott Haverkamp slid to first team at left tackle in Cesar Rodriguez's absence. Bob Whitaker, David Ochoa and Jake Cox made up the interior as expected, and Anthony Collins worked out at first-team right tackle instead of senior Matt Thompson.
"We have a couple guys nicked up, but we've had some guys step up and look pretty doggone good," Mangino said. "Anthony Collins has made a lot of progress. We're not afraid to use him."
Mangino also went out of his way to laud Cox, a junior-college transfer who hasn't missed a repetition yet this month and has forced his way atop the depth chart at right guard.
"He's going to win a job at one of the guard spots," Mangino said, "no question in my mind."
Defensively, Wednesday's early session - which was open to the public - had several prominent players on the sidelines. Most of the linebacker work during the 11-on-11 drills involved younger players like freshmen Joe Mortensen and Mike Rivera, while seniors Nick Reid, Banks Floodman and Kevin Kane saw minimal work.
"I think we're going to have some good young linebackers that will be able to help us," Mangino said. "We're trying to get them a little extra work here to see what they can do and how they can contribute."
¢ Updated depth chart: Kansas released an updated depth chart Tuesday. And though nothing major emerged, some intriguing questions were answered.
As expected, Adam Barmann has taken the lead at quarterback, with Brian Luke working as backup and freshman Kerry Meier considered third-string. Jason Swanson, who has battled a nagging injury, wasn't listed.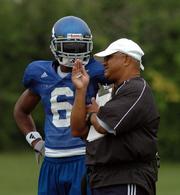 Defensively, Avila University transfer Eric Butler has emerged as a backup at defensive tackle. Jerome Kemp now is listed as the starting strong safety over Aqib Talib, and Ronnie Amadi is now projected to start at cornerback ahead of a dinged-up Theo Baines.
"(Baines) practiced the other day, one day, and reaggravated it," said Mangino, who does not disclose specifics of injuries. "He's falling behind. Theo's got to fight back and get healthy and compete for it again."
¢ Mulling redshirts: KU's coaching staff still is evaluating which true freshmen will play this year.
"We've formulated a list of kids that probably will not be able to contribute this year," Mangino said. "It's a matter of us sitting down with our coaches and explaining that to them."
Mangino didn't discuss specific names, but when asked he said freshman linebacker Brandon Duncan was "not one of the guys we've considered at this point to absolutely redshirt."
¢ What's next: With classes starting and practice times cut back, KU only will have one more event with public access before the season opener Sept. 3 - fan appreciation day, which starts at 5:30 p.m. August 24 at Memorial Stadium.
Copyright 2018 The Lawrence Journal-World. All rights reserved. This material may not be published, broadcast, rewritten or redistributed. We strive to uphold our values for every story published.