Philadelphia — Terrell Owens returned to practice with the Eagles on Wednesday, one week after he was dismissed from camp following a heated dispute with coach Andy Reid.
Owens, again wearing camouflage and listening to oversized headphones, arrived at 7:27 a.m. at Philadelphia's practice facility. He was greeted by several dozen fans, some holding signs, including one that read "TO must go."
Owens jogged onto the practice field shortly before the morning session began at 8:45. He ran routes, caught passes and even interacted with teammates, a marked contrast from his reclusive behavior earlier in camp. It didn't appear he spoke to quarterback Donovan McNabb. The two have feuded all summer.
The disgruntled All-Pro wideout met briefly with Reid before practice.
"It was a good meeting," Reid said, avoiding questions about particulars. "He did a nice job. He worked very hard."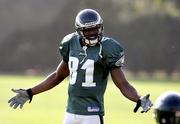 Owens missed several practices because of a groin injury before he was sent home last week, so Reid limited his reps in practice to avoid aggravating the injury.
After spending a few days at his home in Atlanta, Owens returned Monday afternoon to Philadelphia. A police escort led him from the tarmac and away from fans and reporters waiting at the airport terminal.
Owens' return to his home Tuesday night in Moorestown, N.J., was met with the same hoopla as when he left. He ignored reporters' questions, waved to fans and signed autographs from a green SUV. Owens was accompanied home by agent Drew Rosenhaus and publicist Kim Etheredge.
Owens had said he would report and give his all to the NFC champions, but wouldn't be happy because the Eagles wouldn't redo his contract. The Eagles also refuse to budge off their hardline stance: Owens can play for them under the seven-year, $48.97 million deal contract he signed last year, or he won't play at all.
Copyright 2018 The Associated Press. All rights reserved. This material may not be published, broadcast, rewritten or redistributed. We strive to uphold our values for every story published.