Washington — One hundred thousand images, 70,000 miles and 21 countries later, conservationist J. Michael Fay thinks Bono, Live 8 and the G-8 have been misguided.
Fay, a biologist and member of the Wildlife Conservation Society and National Geographic Society, spent seven months flying at low altitudes across Africa, and he has mapped enough of the human footprint on his trip to be disturbed, he said at a news conference Wednesday to highlight his findings.
"People aren't connecting the dots," he said of African relief efforts. "We gotta stop talking about poverty alleviation, and we gotta start talking about sustainable development."
Fay said he believed international aid to Africa must be transformed to preserve the continent's basic resources instead of extracting them for wealthy nations. Natural resources and conservation management should be part of the psyche of African governments and people worldwide to help make African countries more self-sustaining and so that the world won't keep seeing them as places of constant crisis, he said.
Fay said he had seen mass graves in AIDS-ridden South Africa as well as dehydrated and dead hippos at Katavi National Park in Tanzania, which he said was a result of the World Bank's rice-development efforts, which made money but took away water from wildlife.
Fay and pilot Peter Ragg of Austria left South Africa in June 2004 to look at the "interface between humanity and what nature provides for humanity," and to find answers to questions about the origins of the land's most troubled spots, such as Sudan and Niger.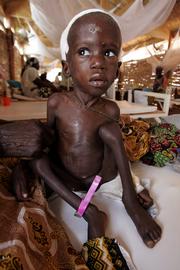 "Darfur, in my opinion, was something we could have seen 30 years ago," Fay said, referring to the region in Sudan where more than 100,000 people have died and millions have been displaced during two years of fighting between black African tribes and Arab militias. Fay pointed to the ecological warning signs: limited habitable space, little productivity of goods and a heavy human "footprint."
It wasn't all disheartening. Fay said he saw examples of a budding commitment to sustainable development. Namibia's healthy soil, grass and wildlife, for example, are the result of a new "conservancy" system that grants communities control over their land with encouragement from the government to produce wisely.
Fay also was amazed to see tens of thousands of lechwe, a type of antelope, alongside humans in Zambia, offering hope that nature and humanity can coexist.
More information on Fay's findings will appear in the September issue of National Geographic magazine.
Copyright 2018 The Lawrence Journal-World. All rights reserved. This material may not be published, broadcast, rewritten or redistributed. We strive to uphold our values for every story published.