Kansas University football coach Mark Mangino is searching and searching for that guy, an intelligent, gritty quarterback who can throw and run and make all the right decisions when an animal of a linebacker is ready to knock him silly.
Somebody like Bill Whittemore, a two-year starter who, despite being riddled with injuries and a shortage of games at KU, will go down as one of the Jayhawks' finest quarterbacks ever.
Kansas since has recruited quarterbacks who have Whittemore-like potential. That explains having Kerry Meier at the top of the board during last recruiting season.
In fact, I'll say without hesitation that Meier fits the Whittemore mold more than any slinger on KU's roster. He will be a special, special quarterback.
But his time is coming.
Adam Barmann's time is now.
Don't let these old men fool you. Boss and former boss here at the Journal-World have compelling cases as to why Barmann should be holding a clipboard while Meier or Brian Luke leads the Jayhawks.
But as athletic director Lew Perkins would say, that's hogwash.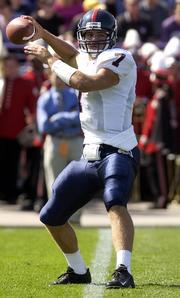 If the Jayhawks want to get six victories and go bowling this fall, Barmann gives them the best chance to get it done.
He has called audibles with the jeers of 80,000 hostile fans ringing his ears.
He has thrown strikes for touchdowns, threaded the needle for completions and has played more games than anyone, including Luke, a fifth-year senior.
Barmann started three games as a freshman, completed nearly 70 percent of his passes and earned his Tangerine Bowl ring by keeping the Jayhawks together until Wild Bill came back from injury.
Believe it: Barmann's the guy. There are arguments against him, but, really, which hold up?
¢ Adam Barmann doesn't throw the ball downfield enough. Maybe so, but how much of that is Barmann, and how much is the low-risk offensive scheme he has tuned for, complete with slot screens out wide and swing passes and shovels to a fabulous receiving running back Clark Green?
Remember, too, that Barmann didn't have the electric Charles Gordon catching his passes all that much in 2004. Makes you less willing to air it out.
¢ Barmann doesn't look comfortable in the pocket. Not always, but he would have been against Texas and Missouri last year, two teams that refused to blitz aggressively and put the heat on Luke. To Luke's credit, he took advantage and played great. But the one Big 12 Conference team that blitzed more than any other against Kansas was Iowa State. The Cyclones injured Barmann, rattled Luke right out of the game, and that carried ISU to the victory.
¢ Kerry Meier is the future. He most definitely is. But can a true freshman get it done in the toughest conference in college football? I'm skeptical. As good as Barmann was, he was 0-3 in his starts as a true freshman in 2003.
Don't let these old men fool you. Tom Keegan and Chuck Woodling have years (OK, decades) of opinion-writing experience on me, but they won't win this one.
At Media Day last week, Barmann was asked if the quarterback job was his to lose. He shyly but confidently said, "Yeah."
I'll take it one step further. It's his job, but losing it shouldn't be an option this season.
Copyright 2018 The Lawrence Journal-World. All rights reserved. This material may not be published, broadcast, rewritten or redistributed. We strive to uphold our values for every story published.