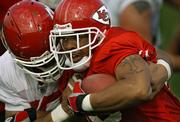 River Falls, Wis. — Kansas City Chiefs linebacker Derrick Johnson sat out of practice Tuesday morning because of a sore foot, but worked out with other injured players on a separate field in the afternoon.
Coach Dick Vermeil said Johnson's foot hurt when he woke up, but Vermeil did not say how Johnson hurt it or how serious the condition was.
And other Chiefs continued to be bothered by their injuries.
Vermeil expressed concerns about backup defensive tackles John Browning and Junior Siavii, who are suffering from back and knee injuries.
"It's through no fault of their own, but if you can't practice, you can't play," Vermeil said. "We put Junior in the game last week, and he comes up with a swollen knee, then he comes up with a swollen head. It ain't funny. It's critical in his career right now to do more things right."
Tight end Tony Gonzalez, who is practicing just once a day, has had a sore pinky and a sore foot. Tuesday, he said his pinky felt good but his foot still hurt.
"I'm trying to stick with one-a-days and going out there and do what I can," he said.
Vermeil said defensive end Eric Hicks "is having his best training camp and is probably going to play the best football he's played in his career."
Copyright 2018 The Associated Press. All rights reserved. This material may not be published, broadcast, rewritten or redistributed. We strive to uphold our values for every story published.