Kansas University classes haven't even started yet, but Joseph Hermens already is counting on ramen noodles to be a staple for him during his college years.
"They are delicious, cheap and easy to make," the freshman from Quincy, Ill., said. "After pizza, they are the next best thing."
That's the attitude many students will be taking as they head back to classes Thursday, with boxes of the stringy noodles loaded into dorm closets alongside minifridges and Xboxes.
At a cost of just pennies per meal - a survey of local grocers found ramen as cheap as eight packages for a dollar - the noodles are easy on the pocketbook. It takes just minutes for busy students to cook between classes or meetings. And there are enough flavored spice packets available - including seafood, beef, shrimp and the vaguely named "Oriental" flavor - to mix it up a bit.
It's easy to see why ramen is a major food group for college students, along with pizza and beer.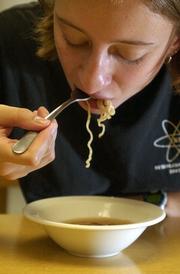 "It's something everybody goes out and buys at the beginning of the school year," said Hannah Owens, a KU senior from Downers Grove, Ill. "You see 39 cents or whatever, and instantly you think, 'All right!' So that's a big part of it. And it's pretty easy to make."
Not just noodles
But it doesn't have to be so easy, and putting a little effort into cooking ramen can transform a relatively bland meal into a healthy feast.
Matt Fischer knows that well.
As editor of the self-proclaimed "Official Ramen Web Site" (www.mattfischer.com/ramen), Fischer gets two or three submitted ramen recipes each day. Many of them come from college students, though ramen apparently also is popular among military personnel and inmates.
The recipes range from the traditional with meat and vegetables to ramen with chili, breakfasts with eggs and ramen and sugary desserts.
"There's a dessert in there that's pretty gross, with chocolate and caramel," said Fischer, a computer programmer who lives in Fort Collins, Colo. "You think you'd eventually run out of recipes. I guess my tastes are a little more simple."
He grew to love ramen as a student at the University of Missouri-Rolla. His favorite recipe is simply cooking the noodles with chicken, olive oil and garlic.
But Fischer knows there are others who are trying to take ramen to a new high - or maybe low. He got an e-mail from dorm residents at Virginia Tech, who invented the "Great Ramen Challenge" - they try to get their fellow students to eat 12 packages of ramen in two hours.
So far, Fischer said, nobody's done it.
Ramen variety
Owens, the KU student, likes ramen, but maybe not enough to eat 12 packages in one sitting.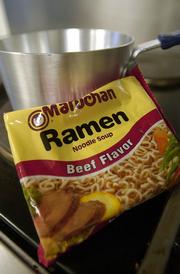 She keeps it simpler, typically mixing in carrots, mushrooms and onions with the cooked noodles.
"Sometimes I put tofu in it," she said. "With the spice packet, it makes tofu actually palatable."
Dan Birnbaum, by comparison, is more of a ramen connoisseur.
Most Americans buy the Japanese version of ramen. In the 1970s, Nissin Foods took a basic Chinese noodle and turned it into a prepackaged, instant meal that is now a staple in houses worldwide. There are 46.3 billion ramen meals consumed annually, according to the International Ramen Manufacturers Assn.
But Birnbaum doesn't go for the Japanese version of the food, which he cooks when he watches his favorite anime cartoon, Naruto.
He prefers Korean ramen, which he finds in a market in his hometown of Tulsa, Okla. The Korean ramen includes a spice packet - often spicier and with a seafood flavor - and a packet of dried vegetables.
"It's a cheap way to get a little bit of ethnic food," he said.
But it turns out the "Japanese" version of ramen isn't that authentic anyway. Hanano Shimamoto, a KU junior from Japan, said ramen in her home country has more broth, so it's more like a soup.
"I think the reason is that ramen is changed to more American taste," she said. "For me, it's too oily and (has) too much flavor."
Health concerns
The fact the noodles are too oily - and too salty, for that matter - is a concern to Adrienne Moore-Baxter, a dietitian at the KU Medical Center.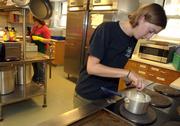 A package of Top Ramen shrimp-flavored noodles, for instance, contains 14 grams of fat and 1,720 milligrams of salt, which is 72 percent of the recommended daily salt intake.
She said Campbell's used to make low-fat ramen, but she hasn't seen that on the shelves in a while.
"Ramen is surprisingly high in fat," Baxter said. "I was happier when there was a low-fat option."
She said "extending" the noodles by including meat, nuts or vegetables made it more healthy, especially if that meant students could get a second meal out of a noodle package. She said she often uses only half a spice packet when she makes ramen to reduce fat and sodium.
"I think it's healthy," she said, "especially if it can help you get your nine servings of fruits and vegetables a day."
Garlicky Thai Stir-Fry Ramen with Tofu
Package of ramen noodles
Package of extra-firm tofu
Bag of frozen stir-fry vegetables
Olive oil
2 cloves, garlic
Mixed seasoning
Pinch, brown sugar
Pinch, salt
2 tablespoons, hot sauce
Heat olive oil in a pan on high heat, and add garlic. Cube tofu and add to hot olive oil. Pour in enough olive oil to cover tofu. Fry for 10-15 minutes or until golden brown. Toward end, add brown sugar. Scoop tofu out of pan but leave enough oil to coat the bottom of the pan. Turn heat on medium-low setting and add vegetables with water. Add mixed seasoning. When veggies start to simmer, add ramen. Allow to simmer for 5 minutes, stirring occasionally. Add ramen flavoring. When noodles are done, stir in tofu chunks. Finally, add hot sauce and salt.
Source: The Official Ramen Homepage
Crunchy Fried Hot Peanut Ramen
1 package ramen noodles
1 tablespoon oil
1 tablespoon peanut butter
Hot pepper
Cooked vegetables
Rice (optional)
Heat oil in skillet. Add ramen noodles. Stir-fry noodles until they begin to brown. Add peanut butter, hot pepper and flavor packet and mix. Add vegetables and rice, if desired.
Source: The Official Ramen Homepage
Chili Frito Pie Ramen Style
4 package ramen noodles (beef or chicken flavor)
2 cans chili
1 or 2 polish sausages
25 Frito chips
Make noodles as directed on package, without adding seasoning package. Drain noodles and set aside. Heat 2 cans of chili in a pan. Add ramen seasoning package while heating chili. Cook polish sausages in a microwave. Chop and add to chili sauce, then mix with noodles. Serve on a plate with Frito chips.
Source: The Official Ramen Homepage
Hyperactive Candied Choco-Ramen
1 package ramen
1/4 cup brown sugar
1/4 cup chocolate sauce
Powdered sugar
1/2 teaspoon vanilla (optional)
Whipped cream (optional)
Fill pot with 2 to 3 cups of water, and mix in 1/4 cup of brown sugar. Also add vanilla, if desired. Cook ramen block when sugar-water boils. Cook until noodles are soft. Strain ramen until most water has left the pot. Pour in a few dashes of brown sugar and chocolate sauce. Mix well. Place on plate and sprinkle with powdered sugar. Add whipped cream if desired.
Source: The Official Ramen Homepage
Ramen Noodle Salad
1 package broccoli slaw mix or cabbage slaw mix
4 green onions, diced (optional)
1 cup sunflower seeds, cashew halves or slivered almonds
Dash black pepper
1 package ramen noodles (chicken or oriental flavor)
1 cup vegetable oil
3 tablespoons rice or white vinegar
3 tablespoons granulated sugar
Mix slaw, onions and nuts. Mix oil, flavor packet, vinegar and sugar in a small, sealable plastic container. Chill 2 hours or overnight. Add dressing and broken ramen noodles just prior to serving.
Source: Adrienne Moore-Baxter, Kansas University Medical Center dietitian
Top Ramen Pizza
2 packages beef flavor ramen noodles
Salt
1/2 pound ground beef
1/2 cup sliced mushrooms
1 jar spaghetti sauce (15 1/2 ounces)
3 tablespoons parmesan cheese
1/2 cup chopped onion
1/2 cup milk
1 egg
8 ounces grated mozzarella cheese
Cover pizza pan with aluminum foil. Build up foil edges to form about 1/2-inch tall rim around the pan. Lightly grease the aluminum surface. Cook both packages of ramen noodles in water with pinch of salt. Do not use flavor packets. Drain noodles and set aside. Brown beef, onions and mushrooms together. Drain excess fat. Stir both flavor packets into meat mixture. Set aside. Beat together egg, milk and parmesan cheese. Stir this mixture into noodles. Even spread noodle and egg mixture onto pizza pan. Pour spaghetti sauce over noodles. Sprinkle meat mixture over sauce. Top with mozzarella cheese. Bake at 350 degrees for 20 minutes or into golden, bubbly brown. Let stand 5 minutes before slicing.
Source: www.nissinfoods.com
Copyright 2018 The Lawrence Journal-World. All rights reserved. This material may not be published, broadcast, rewritten or redistributed. We strive to uphold our values for every story published.