An illegal immigrant from Mexico was sentenced Tuesday to five and a half years in prison for killing a young nurse with his car while driving drunk.
"I apologize for the pain I have caused," Adan S. Cruz, 23, told Douglas County District Judge Robert Fairchild with the assistance of a translator. "I didn't want to do this."
Cruz, who had been living in Lawrence, struck and killed Jodie Hatzenbihler, a 25-year-old nurse from Olathe, as she walked across Sixth Street in the early morning of April 9 after leaving Cadillac Ranch, 2515 W. Sixth St.
The judge's sentence wasn't enough for Hatzenbihler's father, Dean. He said the Kansas Legislature hamstrings judges with sentencing guidelines set by state statute. Dean Hatzenbihler also said if Cruz had been deported after his first drunken driving charge, his daughter might still be alive.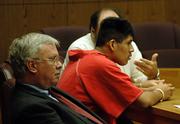 "We miss her every day," Dean Hatzenbihler said. "We miss her every moment."
Fairchild based Cruz's sentence on guidelines created by state law. Cruz was sentenced to 66 months, or five and a half years, for involuntary manslaughter and 12 months in jail for drunken driving. Cruz was ordered to serve the sentences concurrently.
Cruz also had a prior drunken driving charge. It's likely that once he completes his prison sentence, he will be deported to Mexico because he has been convicted of a felony. Cruz wasn't previously deported as a result of the drunken driving charge because it wasn't a felony.
Four people at the sentencing spoke about Jodie Hatzenbihler, including her friend Kate Lynn, who spoke of Hatzenbihler's sparkling personality and details of the night she died. Lynn was with Hatzenbihler and other friends that evening.
"We spent the night dancing," Lynn said.
When the group of friends left the bar, there were no cars on the street. She said she didn't immediately see the car that hit Hatzenbihler. But Lynn said there were no brake lights - just the constant noise of the engine.
"You hit Jodie so hard that she flew into the air and did a flip," Lynn said. "I had to run to get to her."
Lynn spoke of her depression since Hatzenbihler's death. The two worked together at KU Med. She said she had hiding places at work where she goes to cry.
"It's hard to continue nursing, but I know leaving would be against her (Jodie's) wishes," she said.
Lawrence attorney Shelley Bock, who represented Cruz, said he believed his client was "truly sorry."
Cruz came to the United States to work, Bock said. Cruz had two jobs and worked 70 hours a week.
"He's not an ogre," Bock said. "He has a family and supporters and people who care about him."
Several factors may have contributed to the accident in addition to Cruz driving drunk, he said. Hatzenbihler had also been drinking, Bock said.
Bock noted that there have been other incidents near the same site Hatzenbihler was struck. It was nearly the exact same place and manner in which a Baker University student was struck and critically injured last November.
Copyright 2018 The Lawrence Journal-World. All rights reserved. This material may not be published, broadcast, rewritten or redistributed. We strive to uphold our values for every story published.