Detroit — David Ortiz didn't do much for the first eight innings. He made up for it in the last two.
Ortiz tied the score with a ninth-inning homer off Detroit Tigers closer Fernando Rodney, then hit a three-run shot off Jamie Walker during a seven-run 10th that carried the Boston Red Sox to a 10-7 victory Tuesday night.
"He's the best hitter in the game when it counts," teammate Johnny Damon said. "The best clutch hitter I've ever seen."
Pinch-hitter Bill Mueller snapped a 3-3 tie with an RBI groundout in the 10th. Ortiz and Jason Varitek both homered later in the inning for the Red Sox, who have won seven of eight. They lead the Yankees by 41â2 games in the AL East.
Varitek homered from both sides of the plate, the first time he has accomplished the feat. It was the first time a Red Sox player connected from both sides since Mueller did it on July 29, 2003, at Texas.
Ortiz's home run in the ninth off Rodney tied it at 3.
"I knew he has a good fastball," said Ortiz, who once played winter ball with Rodney. "I wasn't giving up on his fastball."
Suddenly, the Red Sox had new life.
"We were one pitch away from going home," Boston manager Terry Francona said. "David put a good swing on it, and we got to keep playing."
Craig Monroe hit a grand slam with two outs in the bottom of the 10th against Mike Remlinger, but the left-hander retired Brandon Inge to end Detroit's three-game winning streak.
"I don't even care," Monroe said, referring to his first career slam. "It was a waste. We lost."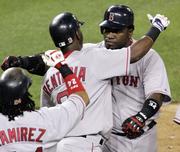 With one out in the Boston 10th, Tony Graffanino singled off Chris Dingman (1-2) and went to third on Kevin Youkilis' single to right-center.
Mueller, batting for Gabe Kapler, hit a dribbler to the right of the mound, and second baseman Placido Polanco's only play was to first.
Walker replaced Dingman, but gave up an RBI single to Damon. He stole second and went to third on Edgar Renteria's infield hit before Ortiz hit his second homer in two innings deep into the right-center stands.
Indians 8, Rangers 2
Cleveland - Ronnie Belliard hit a three-run double to snap a seventh-inning tie, and Jhonny Peralta homered twice for Cleveland, which broke a three-game losing streak by handing Texas its eighth straight loss. C.C. Sabathia (9-9) won his third straight start for the Indians.
Blue Jays 4, Angels 3
Anaheim, Calif. - Los Angeles closer Francisco Rodriguez walked Corie Koskie with the bases loaded in the ninth inning to force in the tying run, and pinch-hitter Frank Catalanotto followed with a sacrifice fly, lifting Toronto over the Angels.
Twins 9, White Sox 4, 16 innings
Chicago - Shannon Stewart hit a go-ahead RBI single in a five-run 16th inning, and Minnesota sent Chicago to its first four-game losing streak of the season, beating the White Sox in 5 hours, 9 minutes. Michael Ryan singled to start the 16th and was forced at second on Michael Cuddyer's bunt, with the White Sox arguing that they turned a double play on the relay to first.
Orioles 4, Athletics 3
Oakland, Calif. - Brian Roberts scored the go-ahead run in the seventh on an error. Rafael Palmeiro, facing constant boos in his second game back in the lineup following a 10-game steroid suspension, had a double and a single and scored a run. Baltimore scored three unearned runs in the seventh against Jay Witasick (1-1).
Devil Rays 4, Yankees 3, 11 innings
St. Petersburg, Fla. - Eduardo Perez tied the game in the bottom of the ninth inning with his second homer of the game, and Jonny Gomes walked with the bases loaded with two outs in the 11th, lifting Tampa Bay past New York. The Devil Rays rallied from a 3-0 deficit against Randy Johnson and Mariano Rivera to force extra innings.
Late Monday game
Angels 5, Blue Jays 4, 11 innings
Anaheim, Calif. - Darin Erstad singled home the winning run in the 11th inning, Adam Kennedy had four hits, and Los Angeles beat Toronto. Chone Figgins drove in two runs for the AL West-leading Angels.
Copyright 2018 The Associated Press. All rights reserved. This material may not be published, broadcast, rewritten or redistributed. We strive to uphold our values for every story published.