The forts are back.
"We dug one new one and we rehabilitated the one we built last year," Lawrence historian Katie Armitage said Tuesday, shortly after wrapping up this year's "Kids, Let's Build a Mud Fort!" session.
Twenty-two people - a mix of children and adults - turned out for the fort-building course on the Kansas River banks north of Constant Park.
"Records show that in 1855, there were five forts surrounding the teeny community of Lawrence, which was hugging the river near what's now Sixth and Massachusetts," Armitage said.
The session helped kick off the city's annual commemoration of William Quantrill's Aug. 21, 1863, raid on Lawrence.
The forts, she said, were built to defend the city from the pro-slavery Missourians camped on the Wakarusa River.
"They weren't really forts," Armitage said. "They were more like earthworks or breastworks."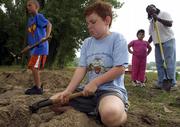 Twenty-five adults gathered Tuesday in the basement of the Watkins Community Museum of History to hear John Nichols, an amateur historian Civil War re-enactor from Paola, discuss the history of the dragoons in Kansas.
"There's a lot that went on here that people don't think much about," said Nichols, who wore a navy blue with orange piping replica of a dragoon uniform, like those worn in Kansas in the 1850s.
The dragoons, he said, were the "fighting machines" of their day, noting they were armed with sidearms, sabers and carbines, and were trained to fight both on foot and on horseback.
Soon after Abraham Lincoln was elected president, Nichols said, the dragoons were summoned east and converted to cavalry troops. In their new role, they tended to spend more time on horseback.
"Keep in mind that a mounted soldier cost three times more than what an infantryman cost," Nichols said. "First of all, for every cavalryman, you needed a horse, a saddle and all the other equipment. It was expensive, which is why they were primarily used as scouts, couriers and bodyguards."
Today's events
Today's events in "Civil War on The Western Frontier": ¢ "Dark Command," a movie set in Bleeding Kansas and starring John Wayne, noon, Watkins Community Museum of History, 1047 Mass. ¢ "Billy Yank & Johnny Reb," hands-on activities for children, 2:30 p.m. to 3:30 p.m., at Watkins Museum. ¢ "The H.L. Hunley & Her Crew: Discovery, Recovery and Burial," a presentation on the 1996 recovery of the Confederate submarine from Charleston (S.C.) Harbor, 7 p.m., Watkins Museum.
Copyright 2018 The Lawrence Journal-World. All rights reserved. This material may not be published, broadcast, rewritten or redistributed. We strive to uphold our values for every story published.