When 14-year-old Thomas Sidor learned he would have a social worker assigned to ensure his school attendance, he had visions of what he called "CIA-type surveillance."
"Like people would be outside in a van watching your house," he said. "I was kind of nervous."
His mother, Susan, was nervous, too. She said she feared prying questions and the feeling she was being looked at under a microscope.
"I thought it was going to be an inconvenience, that my son didn't need it, that I didn't need it," she said.
But instead of interrogation and undercover spies, the Sidors got 23-year-old Todd Hayworth, who shared Thomas' fondness for baseball and Xbox video games. Hayworth was one of 14 Kansas University students assigned last year to earn college credits as a caseworker for the Truancy Diversion Program, a countywide effort to keep students in school and out of the court system.
The program, which has served as a model for other Kansas counties, began in 1977. It's notable, its leaders say, because of the collaborative way it works and its high success rate: Almost all students who enter the program finish it without going to court, and most make it through with no more unexcused absences.
"We're not here to point the finger," said Susan Eakins of the Kansas Department of Social and Rehabilitation Services, one of the program's co-directors. "It's all for the child, and it's all to help."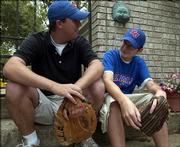 Too many absences
As the school year gears up once again, so are efforts to make sure students actually go to class.
When children miss too much school, prosecutors in Kansas have the option of going to court and filing a "child in need of care" action that in some cases can result in placement in foster care.
The diversion program tries to stop that from happening.
Thomas was one of about 100 students in Douglas County who took part in the program during the last school year.
His case was referred to SRS in November after he accumulated roughly a dozen unexcused absences from South Junior High, where he was in eighth grade.
"I didn't like going to school," he said.
His mother attributed his absences to a combination of family-related issues, personal problems and failure to get a doctor's note for some legitimate absences.
Hayworth made his first visit to the Sidors' home in November, accompanied by Eakins of SRS. The Sidors signed a contract pledging that, in order to keep the case from going to court, Thomas would agree to not have any more unexcused absences.
Monitoring, motivating
Hayworth, a Free State High School graduate, said he and Thomas spent some time at first just getting to know each other.
"I think I was a set of ears that he could kind of relate to a little bit better because I was younger and closer to his age," he said.
Eakins described the KU interns' role as having three parts: motivation, monitoring and mentoring.
Every Tuesday, Hayworth picked Thomas up from school and checked his attendance records.
"If he had no unexcused absences, we'd go get a Coke somewhere, go to the park, throw a baseball around, throw a football around, play some video games," Hayworth said. "If he did have an unexcused, we'd go to the library or the park and work on homework and talk. It wasn't as fun."
Each time Hayworth saw that Thomas had missed class, he reported it to Eakins at SRS.
Eakins said her agency was willing to take unusual steps to make sure students in the program succeed.
"We provide them alarm clocks," Eakins said. "We do the wake-up calls."
Second chance
How it works
Here's how Douglas County's Truancy Diversion Program works:. ¢ Students in Lawrence are considered truant if they have three unexcused absences in a row, five in a semester or seven in a school year. ¢ When a child misses too many days, the school sends a notice to the parents. If the parents aren't able to justify all the absences, the school notifies SRS. ¢ SRS' Susan Eakins then teams with co-director Jan Sheldon, a KU professor of Human Development and Family Life, whose students are assigned to be caseworkers as part of a senior practicum. The students earn credits and aren't paid for their work. ¢ Eakins and the intern visit the family's home and offer them a "diversion contract," in which the family pledges to meet with the intern each week and to have no more unexcused absences. ¢ The KU student's job is to provide motivation and mentoring for the child and to pick up his or her attendance records at school once per week. At times, the students take on personal responsibility for ensuring the child makes it to school. ¢ After roughly nine weeks, leaders from KU, SRS, the District Attorney's Office and the school meet with the family for a "truancy review hearing." If the student has no unexcused absences, he or she graduates from the program and the District Attorney's Office agrees not to file a court case. ¢ If the student misses some class but is making progress, he or she has a chance to do another nine-week program. If the student isn't making progress, the case goes into the courts. ¢ About two-thirds of students finish with no unexcused absences and in the past three years, only one student has had his or her case resolved by a judge, according to SRS.
If a student goes nine weeks without an unexcused absence, he or she graduates from the program. But when Thomas' review period came around, he had several unexcused absences and was at risk of having his case go to court.
A review meeting in December at the Judicial & Law Enforcement Center, 111 E. 11th St., didn't go well. Thomas' mother lashed out at a school official, who she didn't think was treating her fairly. Eakins recalled that the prosecutor closed her book, said, "We're out of here," and said she planned to file the court case.
Thomas' mother said at that point, she decided she had to let go of her anger and commit to helping her son through the program.
"It was an emotional, scary time, and I really thought I was going to lose my child," she said. "There's really no in-between in this program. Either you do it, or you don't."
From that point on, Thomas' attendance improved. Prosecutors held off on filing the court case.
Thomas said he began waking up earlier to take the bus and began enjoying school more, especially a Rube Goldberg device he built for a science assignment. At times, Hayworth gave Thomas a ride to school in the morning.
By the time of Thomas' second review in early spring, he didn't have any more unexcused absences, and he graduated from the program. His mother said his grades had gone from Fs and Ds to As and Bs.
"I was looking forward to going to school at the end of the year, believe it or not," he said.
Copyright 2018 The Lawrence Journal-World. All rights reserved. This material may not be published, broadcast, rewritten or redistributed. We strive to uphold our values for every story published.