Those tiny fake roses sold in glass tubes at convenience stores aren't just impulse buys for romantic souls.
The 4-inch tubes are commonly used as crack-cocaine pipes, the "Sweetheart Roses" thrown away or tossed on the ground outside the store. A piece of copper wool stuffed in one end of the tube serves as a makeshift filter.
"They're marketed as a rose for your boyfriend or girlfriend, but anybody who uses knows what they are," said Nancy Moses, former drug-treatment coordinator for DCCCA, 3312 Clinton Parkway.
It's an issue that has caused concern in other states such as Florida but hasn't received much attention in Kansas so far. When contacted last week, Kansas Bureau of Investigation officials and the leader of a statewide convenience-store association said they weren't familiar with the rose tubes or their illicit use.
"It sounds pretty blatant to me," said Jeff Brandau, a special agent in charge with the KBI. "There's nothing you use a glass pipe for that's legitimate. Nothing."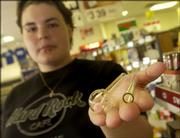 Under Kansas law, stores are able to sell drug-related items that have a conceivable legal use, such as rolling papers, as long as they're not marketed as drug paraphernalia. But many see the flower-in-a-tube setup as a flimsy fig leaf.
"I don't sell that crap," said Susie Coleman, general manager of Center Distributing in Topeka, which supplies local convenience stores. "They don't care about the rose. It's a crack pipe."
On a series of shopping visits last week to Lawrence convenience stores, items sold included a 2-inch-long metal pipe on a key chain ($1.99), the Sweetheart Rose ($1.99) and a product labeled "Aroma Lavender" ($2.99), which is a glass tube with a bowl at the end and a pink fabric flower inside.
Coleman said she thinks merchants who stock the items know what they are.
"Honestly, I don't think they care," she said. "I think they just want to make the sale."
A survey of some Lawrence stores found the rose tubes available at three businesses - Quick Stop, 1000 W. 23rd St., Jayhawk Food Mart, 701 W. Ninth St., and Diamond Shamrock 501 W. Ninth St. - and not available at four others: Presto 66, 1802 W. 23rd St., Kwik Shop, 1714 W. 23rd St., Hillcrest Amoco, 914 Iowa St., and Wood Oil, 920 N. Second St.
Representatives from Quick Stop and Diamond Shamrock didn't respond to requests for an interview. A clerk at Jayhawk Food Mart, Jennifer Brown, said she sold about five of the glass tubes per day and that they're more often bought at night.
She says she believes it's wrong that stores are allowed to carry them. They're not considered drug paraphernalia, she said, because "the laws aren't specific enough."
Boni Bever, a sales associate at the Kwik Shop, said her chain was conscientious about not stocking things that could be used as drug paraphernalia. She said she's happy she doesn't have to sell the roses.
"If that's what they're known to be used as, you're going to have that kind of traffic in your store," she said. "Who's going to say they're not going to come in all high and rob you?"
In 1998, St. Petersburg, Fla., police arrested 14 store owners, managers and clerks in an undercover investigation called "Operation Rose," according to a St. Petersburg Times article. Media reports also have cited efforts to stop the roses from being sold in cities including Seattle, Chicago and Milwaukee.
But Thomas Palace, executive director of the Petroleum Marketers and Convenience Store Association of Kansas, said the issue hadn't yet surfaced for his organization.
"In my 10 years here, that's the first time I've heard about this stuff," he said. "If we received a call from the KBI and they said, 'This is something we'd like to see you pull off the shelves,' I would definitely put that out to the members."
Paraphernalia guidelines
Some people say the "rose tubes" sold in local convenience stores are widely known to be crack pipes. Here are the 14 factors Kansas law requires be considered to determine whether something is drug paraphernalia: 1. Statements made by the owner concerning its use. 2. Prior drug convictions of the owner. 3. The proximity of the object to a violation of a drug law. 4. The proximity of the object to an illegal drug. 5. The existence of any illegal drug's residue on the object. 6. Evidence of the owner's intent to deliver it to someone he or she "should reasonably know" intends to use it for an illegal purpose. 7. Oral or written instructions provided with the object. 8. Descriptive materials accompanying the object. 9. National and local advertising concerning the object's use. 10. The manner in which the item is displayed for sale. 11. Whether the owner is a legitimate supplier of similar or related items, such as tobacco products. 12. The ratio of sales of the objects to the total sales of the business. 13. The existence and scope of legitimate uses for the object in the community. 14. Expert testimony concerning the object's use.
Source: Kansas Statute 65-4151.
Copyright 2018 The Lawrence Journal-World. All rights reserved. This material may not be published, broadcast, rewritten or redistributed. We strive to uphold our values for every story published.