Kansas City, Mo. — The Kansas City Royals had two good chances to end their losing streak and still came up empty.
Mike Maroth came within one out of a shutout, and the Detroit Tigers beat Kansas City, 1-0, Sunday to complete a doubleheader sweep and send the Royals to their franchise-record 15th straight loss.
Kansas City's losing streak is the longest in the major leagues since Tampa Bay also dropped 15 consecutive games in 2002. The only AL team to have a longer skid in the last 30 years was the 1988 Baltimore Orioles, who lost a league-record 21 in a row.
"This is getting really old," Royals manager Buddy Bell said. "We literally did some bad things - getting picked off, doubled off. The kid pitched a good game, but he threw to the same place the whole game, and we didn't make adjustments. You've got to have the courage to make adjustments, to live with a plan. It is frustrating."
Seldom-used Vance Wilson went 3-for-4 with a homer and scored three times, including the go-ahead run in the ninth inning, to help Detroit win the opener, 8-7, despite losing left fielder Rondell White because of a dislocated shoulder.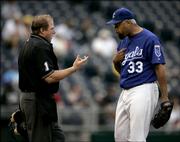 In the nightcap, Tigers manager Alan Trammell was more concerned about getting another victory than Maroth finishing a shutout.
After Chip Ambres flied out to deep center for the second out in the ninth, Trammell summoned Fernando Rodney to retire Mike Sweeney with a runner on and preserve the victory.
"Here is somebody pitching a shutout, but I felt it was the right way to go with Sweeney coming up," Trammell said.
Rodney, who saved both games for the Tigers to give him four saves this season, got Sweeney on a foul popup.
"I didn't think Ambres hit it that far," Maroth said. "I saw Nook (Logan) going back and back. There was just enough room."
In the first game, Kansas City's Angel Berroa led off the eighth with a single to shallow center, but was out by 20 feet trying to stretch it into a double.
"Those are the kind of things we can't continue to do," Bell said. "There's a lot of things that happened that shouldn't have happened."
Maroth knew the Royals were struggling.
"You can't take them lightly," Maroth said. "You've got to guard against that. They can come out of it at any point. You don't look at the past in what they've been doing."
Maroth (10-11) gave up five hits and two walks in 8 2/3 innings, allowing only one runner to reach second base. He was backed by a Tigers defense that turned four double plays.
Dmitri Young led off the Detroit fifth with a double, went to third on Jose Lima's wild pitch and scored on Brandon Inge's sacrifice fly to right for the only run.
Lima (4-11) threw his first complete game since Aug. 11, 2001, with Detroit. He gave up five hits, walked none and struck out three.
"It's not three losses in a row," Lima said. "It's 15 in a row. It is painful. It is ugly. It hurts. It is tough on everybody."
Wilson entered the first game with a .151 batting average in 38 games and 86 at-bats.
"His track record has been pretty good," Trammell said. "Given a chance, he's been able to contribute. The hard part is it is so few and far between at-bats, and like anybody else, he starts pressing."
Pinch-hitter Omar Infante doubled home Wilson with the go-ahead run with two outs in the ninth. Infante, batting for John McDonald, doubled to right-center off Ambiorix Burgos (1-5).
White hit a three-run homer, and Wilson and Craig Monroe added solo shots for Detroit. Craig Dingman (1-1) got the win.
David DeJesus hit an inside-the-park homer for the Royals, and White was injured on the play.
White, who played for the Royals in 2003, left in the third inning after injuring his left shoulder diving for DeJesus' shot to left field. With White in pain on the Kauffman Stadium grass, DeJesus circled the bases for his first career inside-the-park homer.
Monroe's homer in the sixth snapped a 5-all tie. Wilson connected leading off the seventh, pushing the Tigers' lead to 7-5.
The Royals tied it in the seventh. Matt Stairs' single scored Denny Hocking. Sweeney, who had singled and stopped at third on Stairs' hit, scored the tying run on Emil Brown's sacrifice fly.
White, who batted .444 on the road trip, hit Mike Wood's pitch off the left-field foul pole in the first. Magglio Ordonez singled home Placido Polanco with the first run.
The Royals tied it at 5 in the fourth when Mark Teahen tripled home two runs and scored on Berroa's single.
Tigers starter Jason Johnson allowed six runs and eight hits in 6 1-3 innings.
"I wouldn't say it was one of his greatest performances, but he pitched well enough to win," Trammell said.
Plate umpire Bill Hohn warned both dugouts after Johnson hit DeJesus with a pitch in the fifth. The teams had a bench-clearing melee on July 17 in Detroit when Royals right-hander Runelvys Hernandez beaned Carlos Guillen. Hernandez is appealing his 10-game suspension.
Notes: The doubleheader was scheduled after rainouts on Friday and Saturday. ... Detroit C Ivan Rodriguez played the second game after returning from a four-game suspension.
Copyright 2018 The Associated Press. All rights reserved. This material may not be published, broadcast, rewritten or redistributed. We strive to uphold our values for every story published.