Drs. Charles Yockey and David Goering don't make house calls.
Or schedule office visits.
Or tackle the piles of paperwork that tie primary care physicians to their desks well into the evenings at their private practices.
Instead, the two physicians - Yockey, a specialist in internal medicine, and Goering, a primary care physician - spend their days and nights doing one thing in one place: making rounds at Lawrence Memorial Hospital.
As LMH's first hospitalists, they don't need to check up on anything else, anywhere else.
"Our role in the hospital is to take care of hospitalized patients," said Yockey, taking a break from rounds last week. "We don't have an office practice. And we can't follow patients once they're discharged. :
"We're basically partners with every doctor in town. We can take care of their patients when they're not around."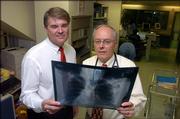 The hiring of such hospitalists - Yockey and Goering started work Wednesday - follows a trend that has been building in health care for the past decade, as hospitals look for ways to shorten hospital stays and primary care physicians struggle to grapple with shrinking payments from insurers.
Hospitalists essentially serve as primary care physicians on behalf of the hospital. Such physicians can stand in for a patient's family doctor, who previously would have been required to stop by the hospital to admit a patient, order tests or approve a discharge.
Now, each patient's primary care physician has another option: leaving the work to the hospitalist, who in turn can take care of a patient's needs without having to reshuffle office appointments, put off paperwork or miss a previous engagement, or forfeit a good night's sleep.
It's an arrangement Goering took advantage of during his nine years of working in primary care in Topeka. Initially skeptical of the arrangement - fearing that he would lose contact with patients - Goering soon deferred as many as half of his hospital-rounds responsibilities to hospitalists.
Now the Lawrence resident has decided to join the ranks of the hospitalists, a force that numbers 12,000 in the United States and looks to approach 30,000 within five years, according to the Society for Hospital Medicine.
David Goering
Home: Lawrence. Education: Doctorate in medicine, Kansas University School of Medicine; residency in internal medicine, Kansas University Medical Center. Most recent job: Primary care physician, Cotton-O'Neil Clinic, Topeka. Experience: Wasau Medical Center, Wasau, Wis.; and Peoples Community Health Clinic, Allen Memorial Hospital Emergency Department, and Northeast Iowa Internal Medicine Associates, Waterloo, Iowa.
"It's certainly a term that patients have to get used to, but I think, in time, it will become more commonplace," Goering said.
More than half of the nation's major health centers already operate hospitalist programs, and Gene Meyer, chief executive officer at LMH, said that Lawrence's 1,200-employee operation was ready to embrace the trend.
"We're excited," he said. "It's just another state-of-the-art service that LMH is about to provide."
The addition of Yockey and Goering - technically, they work for Lawrence Emergency Medicine Associates, a physician's group that runs the hospital's emergency room - should allow the hospital to offer improved and more efficient service, Meyer said. Among the reasons:
¢ Patients won't have to wait for their primary care physicians to make personal visits, unless desired. That can lead to faster, more effective care.
¢ The hospital can trim the length of hospital stays, freeing up beds for others in need of care.
¢ LMH can cut costs of services financed by Medicare without sacrificing quality. The hospital receives a flat reimbursement through Medicare, meaning that the government pays the same for a patient's appendectomy regardless of whether the patient stays for three days or seven days. Cutting the duration of a stay saves the hospital money, especially when 55 percent of the hospital's inpatients are on Medicare.
Charles Yockey
Home: Lawrence. Education: Doctorate in medicine, Kansas University School of Medicine; residency in internal medicine, David Grant Medical Center, Travis Air Force Base, California. Most recent job: Hospitalist, Stormont Vail Medical Center, Topeka. Experience: Lawrence Multi-Specialty Physicians, Lawrence; Lawrence Memorial Hospital; Cotton-O'Neil Clinic, Lawrence; Humana Health Care, Kansas City, Mo.; Watkins Health Center, Kansas University; Internal Medicine Associates, Wichita.
Primary care physicians can spend more time in their own offices, rather than ducking out to make rounds at the hospital. Physicians, in general, can bill more for office visits, and more patients can be scheduled without having to bank on leaving two hours a day open for rounds or other hospital calls.
"In a physician's practice, time is money," Meyer said.
Yockey said that the hospital also would be able to get more patients, now that doctors in surrounding communities - De Soto, Tonganoxie, Eudora and others - could encourage their patients to choose LMH.
Physicians can find comfort in knowing that a hospitalist would be available to tend to late-night needs and other requirements, rather than having to make a relatively lengthy commute to the hospital for what might be a somewhat routine visit.
"My job is to take care of that physician's patient, just like I'm that physician's partner," Yockey said.
Copyright 2018 The Lawrence Journal-World. All rights reserved. This material may not be published, broadcast, rewritten or redistributed. We strive to uphold our values for every story published.