Bryce Baringer, Lawrence, earned the rank of Eagle Scout while working as an instructor at H. Roe Bartle Scout Reservation in south-central Missouri this summer. Bryce, 16, is a member of Boy Scout Troop 55, chartered by West Side Presbyterian Church in Lawrence. He is a junior at Free State High School.
Bryce began scouting as a Tiger Cub in Pack 3055 in the fall of 1995. He advanced through all of the Cub Scouting rankings, earning the Arrow of Light in February 2000. In March 2000, he joined Boy Scout Troop 55. During the past five years, he has participated in monthly troop campouts, including two trips to Indian Caves State Park in Nebraska. In March 2003, he attended a High Adventure camp at Sea Base in the Florida Keys. During the summers of 2002 and 2003, Bryce was a staff member for the Pelathe District Cub Scout Day Camp. During the summers of 2004 and 2005, he has been an instructor at H. Roe Bartle Scout Reservation in Missouri.
He has served in Troop 55 as senior patrol leader, assistant senior patrol leader, patrol leader and quartermaster. For three years, he was troop guide.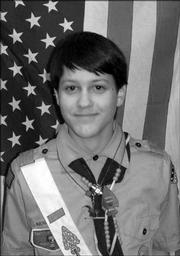 During his years in Troop 55, Bryce has earned 25 merit badges. They include all of the 12 required badges for Eagle Rank plus astronomy, basketry, fish & wildlife, geology, mammal study, nature, oceanography, reptile & amphibian study, rifle shooting, snow sports, soil & water conservation, space exploration and weather.
Bryce is a member of both honor camping societies available to local scouts. In the Order of the Arrow, Bryce has attained the ranking of Brotherhood. In the tribe of Mic-O-Say, he has achieved the rank of Runner. He has earned the World Conservation Award, the Mile Swim Award and an award for snorkeling.
Bryce's Eagle Project was to create 80 large print and Braille-engraved plant labels for the Sensory Garden, which is designed and maintained by Audio-Reader on the Kansas University campus. These colorful 6-inch wide labels replaced tiny, hard-to-read plant labels that were of limited use to the vision-impaired visitors who frequent the garden.
¢ Boy Scout Troop 55, chartered to the Westside Presbyterian Church of Lawrence, attended H. Roe Bartle Scout Reservation on July 3-13. Jason Vannicola was the camp scoutmaster, and Jill Barringer was assistant camp scoutmaster. Alan O'Neal became a First Class Scout and Bryce Barringer completed his Eagle Scout Board of Review.
Scouts who attended camp were Brad Klug, Keith Cowart, Elliot Johnson, Joe Vannicola, Kevin Cottrell, Kiefer Gibler, Steve Norris, Tim Barta, Wolfgang Johanning, Alan O'Neal, Andrew Carttar, David Gast, David Hanson, David Lawrence, Drew Braden, Faraji Kendagor, Ian Patterson, Isaac Remboldt, Isaac Rinke, Jacob Christilles, Jacob Pfeifer, Jeremy Woodhead, Josh Gore, Ludwig Johanning, Mitch McCune, Newt Heston, Patrick Carter, Phoenix DeLaConception, Ulrich Johanning, Drew Braden and Grady Walker. Other adult leaders in camp were Annelee Marsh, Deb Vannicola, Oliver Devlin, Mark Johnson, John Pfeifer, Barbara Norris, Scott Woodhead, Scott Braden, Jim Peterson and Bob Gibler.
Keifer Gibler became a Foxman in The Tribe of Mic-O-Say. Kameron Gibler, Kevin Cottrell, Jacob Christilles and Josh Gore became Braves. Drew Braden became a Warrior. Grady Walker, Oliver Devlin and Keith Cowart became Firebuilders, and Bryce Barringer advanced to Tom-Tom Beater. John Pfeifer and Scott Woodhead were inducted into the Tribe as Honorary Warriors and Barb Norris as Honored Woman.
Copyright 2018 The Lawrence Journal-World. All rights reserved. This material may not be published, broadcast, rewritten or redistributed. We strive to uphold our values for every story published.