It's not fancy like a roundabout or a speed hump, but the latest traffic-control device on 23rd Street seems to be working.
It's a set of simple signs that prohibit motorists turning left at six intersections during weekday afternoon rush-hour traffic on 23rd Street. In fact, city officials say the turning restrictions have worked so well that they now want city commissioners to approve a left-turn ban for morning rush hour, too.
The idea sounded good to City Commissioner David Schauner.
"I do think it has helped," Schauner said. "And it is cheap. It is probably the cheapest thing we could do out there. I think it is a really good common-sense recommendation."
City crews in January installed signs prohibiting motorists from turning left off 23rd Street onto Ohio, Tennessee, Vermont, New Hampshire, Rhode Island streets and Learnard Avenue between 4 p.m. and 6 p.m. on weekdays. City commissioners agreed to a temporary turning prohibition until motorists had a chance to offer comments on it.
According to a survey on the city's Web site, motorists generally favored the change. The city received 108 comments favoring the restriction, 11 against and nine that had no opinion. Plus, 42 people said they wanted the ban to have longer, more extensive hours.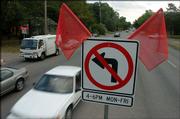 The city's Traffic Safety Commission agreed. Safety commissioners are recommending city commissioners prohibit left turns at the six intersections from 7 a.m. to 9 a.m. Monday through Friday. And they are recommending the city test the no-left turn policy for 90 days.
David Woosley, the city's traffic engineer, said he didn't have specific accident data for the stretch of road, but that the signs were working reasonably well. He said when he's driven through the area during afternoon rush hour he has not been stopped by a car waiting to turn left.
"It used to be that it wasn't uncommon at all to be stopped there almost every time," Woosley said.
The vehicles stopping to turn left often were prime targets for a rear-end accident, Woosley said. The road was previously deemed a safety risk by the Kansas Department of Transportation. KDOT officials recommended a center turn lane be added at each intersection to improve safety. That project, however, was going to be expensive and likely require the city to buy adjacent property. That's when city officials decided to give the sign approach a try.
Woosley said the idea has worked well enough he would investigate using it elsewhere in town, if neighbors requested.
Not everyone is pleased with the policy on 23rd Street. Chad Higbie manages Automotive Finishes at the corner of 23rd Street and Learnard Avenue. He said the restrictions, especially if morning hours are added, would hurt his business by making it more difficult to get to his store.
"Convenience is the reason that all of us are out here on 23rd Street paying high rents and high taxes," Higbie said. "It just puts a hurt on us."
Higbie said he wasn't sure the turning restrictions were doing much good anyway. He estimated about half the motorists ignored the signs.
Lawrence Police Department officials said they didn't know how many people had been stopped for violating the ordinance. But Woosley said in his conversations with police officers, he has been told that they have made frequent stops. Woosley said officers generally have been giving warnings but likely will begin ticketing once commissioners put the policy permanently in place.
Commissioners will meet at 6:35 p.m. Tuesday at City Hall, Sixth and Massachusetts streets.
Copyright 2018 The Lawrence Journal-World. All rights reserved. This material may not be published, broadcast, rewritten or redistributed. We strive to uphold our values for every story published.