London — British Airways resumed flights to and from Heathrow Airport on Friday night when a strike by ground crews ended - and began what was likely to be a days-long process of getting thousands of stranded passengers to their final destinations.
Though all of the 1,000 striking workers returned to their jobs Friday afternoon, hundreds of flights had been canceled at one of the world's busiest airports during the peak of the summer travel season. The airline hoped to send 32 flights out of Heathrow, half to British or continental European locations, the rest to the Middle East, Asia and the United States.
Becky Thornton, a BA spokeswoman, said it would take several days before all the passengers are helped.
About 70,000 BA passengers were stranded Friday, half at Heathrow and half at other airports hoping to fly to Heathrow, Thornton said. On Thursday, that figure stood at 40,000 passengers, she said.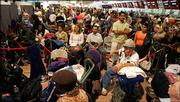 Airports across the U.S. reported few problems, saying most passengers had been informed of the cancellations before arriving at the airport.
Still, there was a ripple effect around the world, as passengers due to fly to London found themselves stuck.
"We've been here for three hours, and no one has said anything about hospitality, or sorry," said Rick Doehring, due to fly to London from Paris' Charles de Gaulle airport en route to Detroit. "It is getting tiring."
Thornton said the airline also must get 100 BA aircraft and 1,000 BA flight crew employees that were stranded by the industrial action back where they belong.
"It will take several days to get some stability to our schedule," she said in an interview with The Associated Press.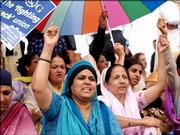 Hundreds of baggage handlers and other ground staff walked out Thursday in support of workers fired by U.S.-owned catering company Gate Gourmet.
Analysts warned that the airline faced losses of tens of millions of dollars.
Gate Gourmet provides onboard meals for British Airways flights. The workers' union said the company had fired 800 workers Wednesday after an unofficial strike. The company said 667 workers had been dismissed.
Henk Potts, an analyst at Barclays Stockbrokers said the latest dispute could cost the airline $18 million a day.
Copyright 2018 The Associated Press. All rights reserved. This material may not be published, broadcast, rewritten or redistributed. We strive to uphold our values for every story published.