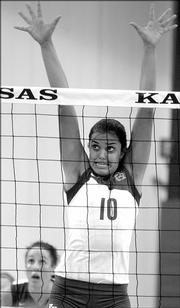 Not only will it be hard for Kansas University volleyball coach Ray Bechard to forget about 2004's senior class as a whole, but one player's departure in particular - his daughter, Ashley - will create a void in his life.
"It will definitely be different," said the KU coach, who will begin his eighth season this fall. "For the last four years we've seen each other every day at practice.
"Obviously, I'm going to miss her a great deal, but at the same time I'm excited for her that she's moving into the next stage of her life.
"I feel that all our seniors last year (Bechard, Jill Dorsey, Ashley Michaels, and Lindsey Morris) provided the perfect kind of leadership. I know that right now they're out in the real world making it a better place."
Unfortunately for the Jayhawks, the foursome no longer will be able to contribute on the court, and gone with them are back-to-back appearances in the second round of the NCAA Tournament.
"It's a great loss, but we think we have a number of players who are capable of stepping up and filling those spots," said Bechard, whose team finished last season with a 19-12 overall record, 9-11 in the Big 12.
KU recorded a program-best No. 21 national ranking and received votes in the USA Today/CSTV Coaches' Poll for eight weeks.
"With the core of returnees we have coming back, the three freshman (Savannah Noyes, Katie Martincich, Liz Ingram) coming in," Bechard said, "and, hopefully, the solid foundation of a program making national strides, we will again be able to contend for an NCAA berth."
Six-foot senior middle blocker Josi Lima, who is closing in on Sarah Rome's (2000-03) school career kill mark of 1,306, tops the list or returnees. Lima, a three-time All-Big 12 Conference first-teamer, currently sits in sixth place with 1,118 kills.
"If she plays the way she's capable," Bechard said of Lima, "then I think there's no doubt she could set a new kills mark, but we're going to need a lot more from her than just kills to get to the place we're going."
Lima possesses other skills as well, but she isn't a setter and doesn't really need to be with Andi Rozum returning. Rozum, a senior who could become KU's all-time assists leader this fall, may face competition from 6-2 soph Emily Brown, a Baldwin High product, and 5-10 freshman Katie Martincich from Roeland Park Miege who was named the state's Gatorade volleyball player of the year.
"There's definitely some options there," Bechard said. "We might use a red-shirt year with Martincich, and Brown will primarily still hit, but It's nice to have the luxury of returning a three-year starter like Andi."
In addition to Lima, Bechard features two other native Brazilians in senior Paula Caten and junior Jana Correa.
Caten recorded a career-high 26 kills in KU's narrow 3-2 loss to seventh-seeded Washington in the NCAA tourney. Correa, who was forced out of 16 matches because of an injury, recorded double-digit kills in 19 of the 26 matches in which she suited.
Bechard also expects larger roles from juniors Megan Hill, Jamie Mathewson and Dani Wittman, and red-shirt sophomore Caitlin Mahoney.
Still, replacing Dorsey, KU's career leader in digs, and Michaels, the Jayhawks career attack-percentage leader, will be a challenge.
"It's kind of funny that you would think it might get a little easier when you get to the level we're at right now, but instead you have to push that much harder," he said.
Copyright 2018 The Lawrence Journal-World. All rights reserved. This material may not be published, broadcast, rewritten or redistributed. We strive to uphold our values for every story published.