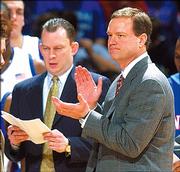 Tops in the land the 2004 AP preseason poll, Kansas University's men's basketball team will not open No. 1 this time.
In fact, early speculation is the Jayhawks, who lost four seniors off last year's Big 12 co-championship team, could be tapped closer to 21st than first in the preseason rankings.
Not that there's anything wrong with that.
"We're going to be good," said KU coach Bill Self, not one to boast when KU tops the national polls or to cry foul when preseason plaudits and expectations are lower.
Self believes a young but scrappy team can overcome the loss of 78.8 percent of the scoring and 70.7 percent of the rebounding off last year's 23-7 squad which won a piece of the Big 12 regular-season title but was stunned by Bucknell in the first round of the NCAA Tournament.
"You hate to lose seniors," Self said. "I loved coaching Mike (Lee), Aaron (Miles), Wayne (Simien) and Keith (Langford) ... We will miss them, but at the same time the young kids we have, the freshmen and incoming kids are going to be terrific. If we keep our heads on straight, the sky could be the limit."
Youth prevalent
KU's third-year coach has brought in freshmen Mario Chalmers, Micah Downs and Julian Wright plus soph transfer Rodrick Stewart to follow last year's class of C.J. Giles, Darnell Jackson, Sasha Kaun, Russell Robinson and Matt Kleinmann.
Following the transfers of J.R. Giddens (New Mexico), Alex Galindo (Florida International) and Nick Bahe (Creighton) and the retirement of Moulaye Niang (back injury). Self has just three players remaining - Jeff Hawkins, Christian Moody and Stephen Vinson - who toiled for predecessor Roy Williams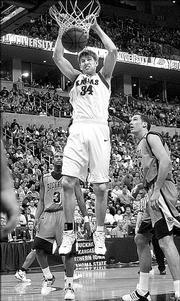 One player Williams recruited, but never coached, also returns in Jeremy Case who red-shirted last year.
"We lose four seniors. Seniors who have been to a Final Four championship game and Elite Eight game were leading us before," Moody said. "They're gone. We've got to step up and start filling those shoes. The seniors this year have to do that."
Two of those seniors are expected to log significant minutes.
Moody, a 6-8 senior from Asheville, N.C., who was called "the best walk on in college basketball history" by CBS analyst Billy Packer, has earned a full scholarship for his final season.
Hobbled by a leg injury late, Moody finished with career-high averages of 5.8 points and 4.7 boards a game.
Moody does little things
"We struggled the most when we played without Christian last year," Self said. "He is one of those guys who does the little things nobody notices. He can guard a perimeter four-man, guard on the inside. He's our best post trapper, help defender. He does the things you take for granted."
Hawkins, a fifth-year guard from Kansas City, averaged 3.0 points in 21 games a year ago. He hit 17 of 35 threes for 48.6 percent.
"Per minutes played, he was our best defender, creating havoc and locking guys up," Self said of Hawkins.
Most of the 6-2 Vinson's contributions come at practice. He logged only 15 minutes in five games a year ago.
The only junior would have been J.R. Giddens, who had a rough sophomore season, averaging 10.1 points a game off 40.4 percent shooting. Giddens is gone, however, leaving the team following a May melee outside a Lawrence watering hole.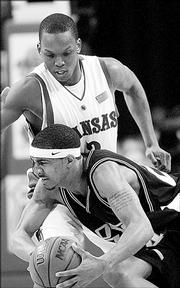 "It was widely reported that J.R. may only be here one more year, so we prepared for that. We went out and signed a heck of a recruiting class - three difference makers," Self said, noting the program was not "ill-prepared to go to battle on the court" without Giddens, who had been linked to the NBA Draft ever since he reported as a freshman.
"This does not come as, 'Gosh what do we do now?'" Self said. "We prepared for this moment."
Case solid shooter
Case, listed as a sophomore after red-shirting last year, is regarded as a possibility to take up the offensive slack. He scored a team-leading 20 points in an early summer scrimmage against former KU players, including Kirk Hinrich, Drew Gooden and Nick Collison.
"Jeremy is a good player, a good shooter," Hawkins said. "He's one of the best shooters I've ever seen at practice. He understands the game. A lot of it has to do with his father being a coach."
Case's father Win is a small-college coach in Oklahoma.
Stewart, a 6-4 transfer from Southern California where he averaged 4.4 points and 2.7 rebounds as a freshman, won't be eligible until the first semester ends.
"I am an athlete. I do a little bit of everything. I am a leaper, though," said Stewart, a prep standout at Seattle's Rainier Beach High. "This is a dream come true for me coming here because these are the players I've always looked up to."
Self like Stewart's skills as well as his makeup, calling him "athletic" and "tough."
Sophs must develop
Maturation of last year's freshmen will be critical.
The 6-10 Giles averaged 2.8 points and 2.4 boards last year while playing in just 21 games because of foot problems. Self hoped Giles would blossom this summer while trying out for USA Basketball's Under-21 national team.
"He has as much potential as anybody in the gym," Self said. "He's so long, athletic, has quick bounce."
Giles also rejected 17 shots a rookie. "He's a natural shot blocker," Self said.
The 6-11 Kaun averaged 2.6 points and 2.3 boards in 27 games. He hit 30 of 56 shots for 53.6 percent. The native of Russia had seven points and four boards in a win at Kentucky. He also had eight first-half points in a win at Colorado.
Kaun looked like he had improved during a summer scrimmage in which he took the ball right to NBA veteran Greg Ostertag, dunking in his face.
"Against Kentucky and Colorado he played to his size, at least offensively," Self said. "We've talked about him attacking the ball and rebounding. In the past he's let balls bounce instead of getting rim high.
"He's going to be great. Remember Sasha and Darnell (Jackson) didn't pick up the sport until they were in high school. I asked Sasha if he played any ball before he came to the States (as junior in high school). He said, 'I knew about basketball and shot it now and then.' As far as playing and being coached it was all new to him."
More action for Jackson?
The 6-8 Jackson averaged 2.0 points and 1.7 boards in 24 outings.
"He is better off if he's able to hit somebody and vice versa," Self said of the former football player. "It's how he needs to play."
The 6-1 Robinson started quickly last season but fizzled, primarily because of turnover woes. The New Yorker averaged 3.5 points with 25 assists but was guilty of 32 turnovers.
"We think Russell will continue to emerge," Self said. "Russell is a smart player and understands the game very well. The guys really like playing with him. He likes to drive, is a guy can keep defenses honest. He gets great satisfaction from his team scoring points and stopping the other team as much as him making a basket."
The 6-10 Kleinmann remains a walk-on. He practiced but did not play in games a year ago.
Much will also be expected from freshmen Wright, Downs and Chalmers, all McDonald's All-Americans.
"These young kids," Self said, "are going to be terrific and the three coming in will help us a lot. Our freshman group is one talented group. You hate to lose seniors but that opportunity will definitely promote guys getting better, faster."
Get up and go
As far as style of play, look for KU to run more than a year ago.
"We should be more athletic than last year," Self said. "I think next year's team from an athletic standpoint should be much quicker, a lot quicker.
"We won't have experience. Obviously, you won't have a guy you throw it to and he can turn around and make a shot at any time. We should be able to do more things. Last year, we were one of the most unathletic teams in the league. We could pressure at one spot, at the point.
"Hawk and Russell are very quick and neither is as quick as Mario. Rodrick is athletic, Julian is a tall athlete, Micah a tall athlete and C.J., of course, a freak athletically."
Self even sees a silver lining in that loss to Bucknell, the Jayhawks' first in a first-round NCAA tourney game since 1978.
"It will make us hungrier, tougher and fight harder than we ever have before," Self said.
Copyright 2018 The Lawrence Journal-World. All rights reserved. This material may not be published, broadcast, rewritten or redistributed. We strive to uphold our values for every story published.