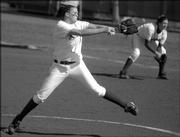 No Kansas University softball team ever hit more home runs in a season. No KU softball club ever posted a higher fielding percentage.
Yet many KU softball teams over the years have had better pitching than last spring when the Jayhawks logged a 31-24 record and made their first NCAA appearance in six years.
"When our pitching was good, we could play with anybody," KU coach Tracy Bunge said. "But when we didn't get good pitching, we struggled."
Bunge's hurlers compiled an overall earned-run average of 2.53, and in a game dominated by pitching that's just a so-so number.
KU lacked a dominant hurler and, in truth, may not have one next spring unless Kassie Humphreys rebounds from a miserable sophomore season.
Humphreys sparkled as a freshman with a 14-12 record and a glossy 1.57 earned-run average, but the 5-foot-10 right-hander from Glendale, Ariz., had control problems last spring, never found her groove and finished with a 5-6 record and an unsightly 3.74 ERA.
"I really believe she'll bounce back," Bunge said of Humphreys. "She struggled with her confidence, and I know she's determined. We're thinking it was probably just a sophomore-jinx kind of year."
Serena Settlemier emerged as the No. 1 starter. She had a 14-9 record and a 2.46 ERA - not bad considering she spent nearly two years recovering from a pitching-arm injury.
Bunge is confident Settlemier, now a fifth-year senior, will be able to recapture the command that enabled her to log a 12-7 record with a 1.88 ERA as a freshman in 2002.
"I think she'll continue to improve," Bunge said. "She was really throwing well at the end of the year, and she's still a threat at the plate, too. Any swing she takes, she can take it out of the park."
Settlemier, who was used as the DH when not pitching, batted .281 and slugged nine home runs.
Continued improvement by Settlemier on the mound and a comeback by Humphreys would go a long way to make up for the loss Christina Ross, who emerged as the Jayhawks' No. 2 starter as a freshman (12-9, 1.93 ERA) but since has transferred to San Diego State.
Ross's replacement is Valerie George, a right-hander from Tucson, Ariz., who signed a KU tender in early summer.
"Valerie is a kid who went unnoticed because she's not a power pitcher," Bunge said. "She's 5-4 and slender. She doesn't have a typical pitcher's physique, but she has a good rise ball, an extremely good change-up and her ball moves."
Bunge conceded it was unusual to be able to sign a high school pitcher so late.
"She had been recruited by some smaller schools," the KU coach said, "but she didn't panic, and didn't sign just to be signing. I'm glad she waited."
On paper, if the pitching comes around, Bunge's 10th team could be her best because the lineup boasts power, the fielding is solid and she'll have a core of six seniors - Settlemier, shortstop Destiny Frankenstein, second baseman Jessica Moppin, third baseman Nettie Fierros and outfielders Heather Stanley and Ashley Goodrich.
Sometimes having a lot of seniors is a blessing. Sometimes it isn't.
"You can look at it one of two ways," Bunge said. "Either they'll have the best year of their careers, or they'll press too much. We've talked about that with them, and I think they're dedicated and want to go out with a bang."
Kansas certainly never has had a more productive keystone combination than Frankenstein and Moppin.
Frankenstein snapped the school single-season home-run record last spring with 14, while Moppin established the school career record with her 24th round-tripper.
Overall, Frankenstein was clearly the Jayhawks' best player. On the way to earning first-team All-Big 12 honors, the Broken Arrow, Okla., native led the Jayhawks in batting (.344), runs (37), slugging percentage (.682) and on-base percentage (.438).
Moreover, Frankenstein was charged with just six errors. She'll enter the 2006 season with a string of 26 consecutive error-less games.
"Confidence is a big key and Destiny has a lot of it going into next year," Bunge said. "She plays the game hard and is determined to be a leader. I have a feeling she'll pick up where she left off."
Bunge also hopes Val Chapple picks up where she left off. Chapple is Bunge's prize recruit. Primarily a third baseman, Chapple was named softball player of the year by the National High School Coaches Assn. after helping Olathe East capture back-to-back Class 6A state championships.
Chapple seems likely to push incumbent third baseman Fierros, who shared the team lead in doubles last season with 11, over to first base, but that's only conjecture at this stage.
"Val is extremely valuable to us because she can do so many things," Bunge said. "She can play anywhere but pitcher. She played some shortstop this summer, she can play the outfield and she has been a catcher."
Bunge doesn't need a catcher with Topekan Elle Pottorf having a solid freshman season last spring (.280 batting average and only one error), but the outfield has a vacancy after Ashley Frazer, a .333 hitter, opted to skip her senior season to concentrate on completing a degree in engineering.
Stanley, who hit .362 during conference games and joined Frankenstein as a first-team All-Big 12 pick, owns right field, and sophomore Jackie Vasquez, who led the Jayhawks with 15 stolen bases, returns in center field.
First base is up for grabs after starter Nicole Washburn batted only .200 with no homers in '04.
In addition of Chapple and George, Bunge signed Erika Simington, a catcher from Scottsdale, Ariz., and Stevie Crisosto, an infielder from Palo Cedro, Calif., who can also pitch.
Copyright 2017 The Lawrence Journal-World. All rights reserved. This material may not be published, broadcast, rewritten or redistributed. We strive to uphold our values for every story published.