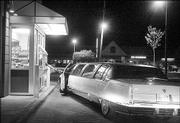 Whether you're looking for a place to soak up knowledge or the lingering effects of alcohol, Lawrence is replete with restaurants, bars and bakeries - beyond McDonald's, Wendy's and Taco Bell - that aim to satisfy your late-night cravings. Here's a guide to some spots that stay open late for the ravenous night owls among you:
The Burrito King, 900 Ill., 832-2844, open until 3 a.m.
The reigning monarch of late-night munchies is definitely "The King." A staple of college students, the quirky restaurant is primarily drive-through, but it also has a walk-up window with a small eating patio. The little shack serves all forms of Tex-Mex cuisine (their tacos are great), but no one can truly graduate from KU until trying its namesake specialty. Many seek an audience with the King after the bars close at 2 a.m., so get there early to avoid the rush.
SIT-DOWN RESTAURANTS AND COFFEE SHOPS
Perkins, 1711 W. 23rd St., 842-9040, open 24 hours
The other main player in early morning cuisine is Perkins, which might qualify as the Burrito King's queen. Although her majesty recently underwent a massive makeover, "The Perk" has reopened in time for the influx of students in the fall. A sit-down restaurant that serves American food and breakfast around the clock, Perkins is another favorite of those heading home or just refueling for the rest of the night.
The Java Break, 17 E. Seventh St., 749-5282, open 24 hours
The Java Break is one home to Lawrence's aspiring bohemians. In addition to a full line-up of coffee drinks and Italian sodas, the labyrinthine shop features a kitchen that serves breakfast, sandwiches and subs 24-7. With Internet access via several pay-terminals, it's also a great location for late-night inspiration.
The International House of Pancakes, 3102 Iowa, 842-6462, open 24 hours
IHOP is perfect for those on the south end of town who have a wee-hour yearning for flapjacks. Like Perkins, this American icon serves breakfast all night, so it's perfectly suited to those living nocturnal lifestyles.
Steak 'n Shake, 3111 Nieder Road, 865-0100, open 24 hours
Like Perkins and IHOP, Steak 'n Shake is open all night. Located on the south end of Iowa, its offers heavier fare for those in the mood for a hearty meal.
BAR & GRILLS
Buffalo Wild Wings Grill & Bar, 1012 Mass., 838-9464, open until 1 a.m.
Located downtown, Buffalo Wild Wings is perfect for those leaving a show at The Granada or The Replay Lounge, both nearby neighbors. If you're heading out on a game night, start early!
The Hole in the Wall Grill, 925 Iowa (inside The Pool Room), 749-5039, open until 1 a.m.
Inside the illustrious Pool Room, this grill is perfect for someone who needs to unwind a little while waiting for their food: Sink an eight ball before sinking your teeth into one of their mighty burgers.
PIZZA
Pizza Shuttle, 1601 W. 23rd St., 842-1212, open until 2 a.m. most weekdays; 3 a.m. Friday-Saturday
Another long-standing Lawrence tradition are these ubiquitous slices. A favorite of late-nighters who stay in to party or are just returning from the fray, Shuttle is fast, hot and cheap.
Gumby's Pizza, 1445 W. 23rd St., 841-5000, open until 2:30 a.m. most weekdays; 3:30 a.m. Thursday-Saturday.
Pizza Shuttle's main rival, the massive pies by Gumby's also are delivered at a price that will jive with your student loan payments. Great for pleasing taste buds as well.
Domino's Pizza, 832 Iowa, 841-8002, open until 1 a.m. most weekdays; 3 a.m. Friday; Papa John's Pizza, 2233 La., 865-5775, open until 1 a.m. most weekdays; 3 a.m. Friday-Saturday.
The standard fare from the corporate juggernaut is now available later, and is perhaps an option if the Shuttle or Gumby's are abducted by aliens, get swamped or spontaneously combust.
BAKERIES AND DONUTS
Munchers Bakery, 925 Iowa, 749-4324, open 24 hours
About the time late night mysteriously becomes early morning, this inconspicuous Lawrence bakery rolls out its sublime creations. Usually between 4 a.m. and 5 a.m., the fresh doughnuts rise from the fryer in warm, golden glory. These melt-in-your-mouth halos are guardian angels for wayward sweet tooths and might even work miracles for your morning.
Dunkin' Donuts, 521 W. 23rd St., open 24 hours
Tendering their famous coffee and tried-and-true donut recipes, this donut shack is perfect for those near 23rd Street.
SUBS
Jimmy John's Gourmet Sandwich Shop, 922 Mass., 841-0011; 1447 W. 23rd St., 838-3737
Though fast, Jimmy John's grub tastes gourmet. With two locations to choose from and a team of swift delivery specialists, Jimmy John's will fix your fix in no time.
Subway, 1720 W. 23rd St., 842-4782; 1800 E. 23rd St., 331-0030; 1530 W. Sixth St., 832-9700; 4000 W. Sixth St., 841-1319; open until 2 a.m.
The famous chain is probably the healthiest of the fast food chains for late-night munching and thus a wise choice for pre-emptive hangover battling. Sadly, they don't deliver.
Copyright 2017 The Lawrence Journal-World. All rights reserved. This material may not be published, broadcast, rewritten or redistributed. We strive to uphold our values for every story published.