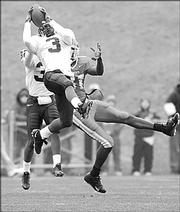 Seems a prerequisite for a college football coach is to worry about depth. That's certainly the case at Kansas University.
For example, when asked about any perceived weaknesses on the defense, head coach Mark Mangino and defensive coordinator Bill Young wondered aloud who would be there to make plays when the starters needed a break.
"I think depth is always a concern," Young said. "Maybe in the secondary. We've got to establish some depth there."
Nitpicking? Maybe. But only because Young was hard-pressed to say anything negative about the projected starters.
For openers, there is junior cornerback Charles Gordon, a third-team All-America selection last year who is now receiving national praise as one of the two best all-around players in the country - along with Ohio State do-it-all Ted Ginn Jr.
Gordon picked off seven passes last year, leading all of NCAA Division I-A in that statistic. Most of the defensive backs who came close to Gordon's theft production were free-to-roam safeties, not cornerbacks locked on one sideline.
On the other corner is Theo Baines, a senior who showed good shutdown skills before a knee injury shortened his season. Rodney Fowler and Aqib Talib were atop the depth chart at safety after spring drills.
"I think it'll be the best we've been since we've been here," Young said of the starting secondary. "Moving Aqib Talib to strong safety, you're taking a very good cover corner with safety size (6-foot-2, 180 pounds). We feel really good about him."
But there is a depth problem with Rodney Harris, last year's starting free safety (62 tackles, four interceptions), leaving during the summer. Mangino said Harris left for personal reasons. Fowler had taken the starting job away from Harris during the spring.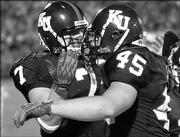 Still, Young has seasoned secondary reserves in twin cornerbacks Ronnie and Donnie Amadi, and safety Jerome Kemp.
It's possible incoming freshmen like Justin Thornton and Darrell Stuckey, as well as junior-college transfer Claven Charles, could be in the mix.
Kansas led the Big 12 Conference in interceptions last year, and Young wants to maintain that position while improving in other categories.
"We have made a tremendous amount of progress," Young said. "But we've got a long way to go."
Linemen
Gordon usually is the first thought when discussing KU's best player on defense, but Young had someone else in mind - a senior with zero career starts who may be considered a tad bit undersized - end Charlton Keith?
"Charlton is going to be one of our best defensive players," Young said. "Maybe one of the best we've had since we've been here."
Keith had to hit the weights hard - and have the weight stick - to be worthy of such a bold claim. Playing at just 218 pounds last year, the 6-5 Keith often was gobbled up by bigger offensive tackles, making his role as a run-stopper minimal.
But as a pass-rush specialist, Keith was : well, special. In a reserve role behind David McMillan and Jermial Ashley, Keith racked up seven tackles for a loss, three sacks, two fumble recoveries and a team-leading eight quarterback hurries.
An offseason of work under strength coach Chris Dawson has bulked Keith up to about 235 pounds. Along with the 6-5, 255-pound Ashley, KU's defensive ends are long, athletic, disruptive - and ready to go.
"Both of them played last year and did an awfully good job," Young said. "People are going to be really surprised with (Keith) this season. He has such good speed and quickness."
At tackle, Young lost sophomore Todd Haselhorst, who was moved to center, and well as graduated Travis Watkins. But senior Tim Allen and soph James McClinton are back, and junior-college transfer Wayne Wilder is one of the most touted recruits in the 2005 class.
"There's always areas to improve," Young said. "You're never as good as you need to be. But our offseason program is as good as I've ever seen. They're doing an unbelievably good job. As our players get bigger and faster and stronger, they also increase in confidence."
Linebackers
Young has experience, talent and plenty of depth. That's all.
Seniors Nick Reid, Kevin Kane and Banks Floodman are all three-year lettermen. All three played as true freshmen, all three have earned at least honorable mention All-Big 12 during their careers, and all have recorded at least 69 tackles in a season at least once.
"We've been running the same defense for the last three years, and they've played in it," Young said. "There's no substitute for having that experience."
Reid, a 6-4, 230-pound converted quarterback, is an NFL prospect who's registered 242 tackles the past two seasons, easily tops on the team. Like Gordon, the Derby product was a first-team All-Big 12 selection. Floodman, at 6-3, 230 pounds, also brings size, athleticism and intelligence to the defense.
Kane, meanwhile, emerged as a solid middle linebacker last season after shining mainly on special teams his first two years. Kane had nine tackles for a loss, two interceptions, two sacks, three pass break-ups and two forced fumbles in '04.
"He's really a sharp guy," Young said of Kane. "He understands his position and where he fits into the scheme so well."
KU lost Gabe Toomey, who chose to skip his last year of college football, but signed speedy junior-college All-American Eric Washington. Also in the picture are seniors Brandon Perkins and Darren Rus and red-shirt freshmen Joe Mortenson and Mike Rivera.
Rivera, a Shawnee Mission Northwest graduate, sat out after playing three early season games as a special-teamer.
He has gained significant muscle mass since high school, but has maintained the speed and quickness that makes him so talented.
"We thought he would outgrow linebacker," Young said.
Rivera hasn't yet.
Copyright 2018 The Lawrence Journal-World. All rights reserved. This material may not be published, broadcast, rewritten or redistributed. We strive to uphold our values for every story published.